Oct 15, 2019
CHI's Pilgrimage to Biblical Turkey and Greece: Part 1 Walking with Paul in Ephesus
Michelle Curtis describes Christian History Institute's tour of Ephesus to explore its New Testament connections.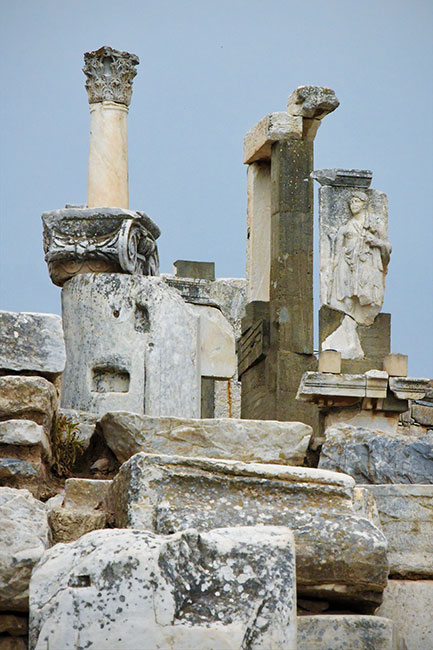 [Statues at Ephesus, courtesy of Doug Johnson]
If someone says, "the land of the Bible," you probably think first of Israel and Palestine—the land where Jesus walked. What you might not realize is that Turkey could be rightly called "the land of the New Testament." More than two-thirds of the 27 books in the New Testament were written either to or from modern-day Turkey.
In May, 2019, Christian History Institute (CHI) led a tour in Turkey and Greece to explore this history in person. In this series of blog posts, I will try to capture what we encountered there, with the hope that this photo journal will bring you a glimpse of this pilgrimage and a deeper love and understanding of the Scripture. This first post will reflect on following the footsteps of Paul in Ephesus. The next post will tell the story of our trip to Patmos, where John received and wrote down the Revelation while in exile. And the final post will share what we learned from our sisters and brothers in the Orthodox Church in Istanbul and Athens.
As we drove out of the bustling modern metropolis of Izmir toward the ruins of ancient Ephesus, we read Paul's letter to the Ephesians aloud. Once upon a time, this was not a book in everyone's Bible. It was an inspired letter, written by hand, and delivered on foot to a bunch of struggling Jesus-followers in the pagan city of Ephesus. It's incredible to realize that God continues speaking to us through these very same words that encouraged the faith of a specific church nearly 2,000 years ago in a place we now know as Turkey. When we drive into the archaeological site, the tour bus is mobbed by vendors selling bottled water, guide books about Ephesus, and small models of Greek and Romans gods. I imagine Paul also would have been surrounded by people trying to sell him statues of Artemis when he came into this bustling city.
The excavated ancient city of Ephesus is massive. The main street is about as wide as a two-lane road in the U.S. It's crowded with tourists from all nations clustered around tour guides or trailing behind their groups to take just one more photo. In Paul's time, the city's population was about 200,000. That's about the size of modern day Salt Lake City, UT or Grand Rapids, MI. In the first century, that population made Ephesus the biggest, grandest city in the province of Asia Minor and one the four largest urban areas in the Roman world. It's prominence was like modern day Chicago or Los Angeles. Christians were a tiny percentage of this huge Roman city whose streets were shadowed by imposing statues of Greek and Roman gods. [See image above]
This was a wealthy city! We walk down to the commercial agora (think: ancient shopping mall) where Paul would have spent his mornings making and selling tents alongside Priscilla and Aquila (see Acts 18:2–3, 18–19). Standing in the ruins of one of the ancient shops, I wonder who would have worked next door. A fishmonger? A silversmith making idols?
Later, we gaze up at what remains of the Temple of Domitian, a Roman emperor worshiped as a god. There's not much left. The twelve-foot-high statue of Domitian has long since been hauled down and carted off. All we can see is his weathered marble foot—the same foot that once stood on top of the world. We stand in awe before the reconstructed facade of the library. Built shortly after Paul's visit, this was once the third largest library in the world. Even in ruins, it's impressive. Tourists swarm around the huge columns and porticos, taking selfies. I stand there, trying to keep out of everyone's way, thinking about the early Christians. Only the wealthy—the top 10% of society—ever learned to read. How many of the people of the church in Ephesus were too poor to read the letter Paul sent them?
[Ephesus library, courtesy of Doug Johnson]
At the end of our tour, we arrive in the ancient theater. It seats 25,000 people—the same size as the Williams Stadium in Lynchburg, VA or about ¼ the size of the largest stadium in the US (Michigan Stadium). It was masterfully built. Sound carried so well that the whole crowd could hear without microphones. We sit on the stone steps, open our Bibles, and listen as one of our group members tells us what happened to Paul in this exact spot 2,000 years ago.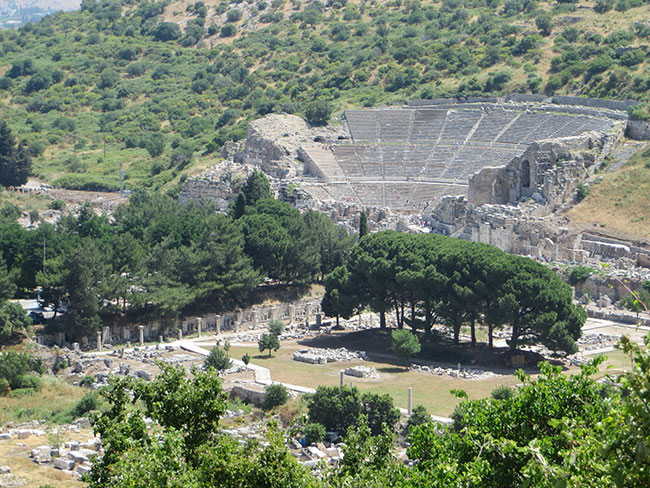 [Ephesus amphitheater, courtesy of Michelle Curtis]
In Acts 19, we find Paul as an established resident of Ephesus. He's been living there for two years, preaching, teaching, and arguing with anyone who will listen. Not surprisingly, a riot breaks out. There's this silversmith named Demetrius. He's worried about Paul. Paul is bad for business. Paul's been telling customers that the little silver gods Demetrius makes are not, in fact, gods at all. If this goes on much longer, he'll be out of a job. And worse, the great goddess Artemis, whose enormous temple stood in Ephesus (attracting many pilgrims!), would be scorned. The Temple of Artemis was one of the seven wonders of the ancient world, yet today only a single column still stands in a swampy patch of grass.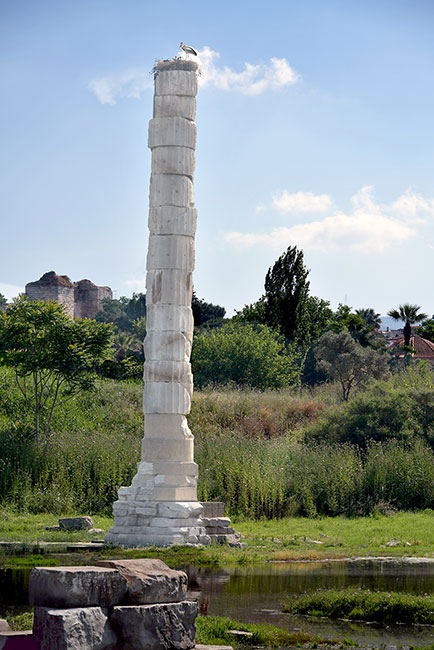 [Remaining pillar of the temple of Artemis, courtesy of Doug Johnson]
So the whole city runs down to the theater. They surge into the stands screaming. For two hours, they bellow, "Great is Artemis of the Ephesians!" And here we are, 2,000 years later, standing on the same spot, hearing the echoes, "Great is Artemis of the Ephesians!" We imagine Paul, standing in the tunnels beneath the stage, pushing forward, trying to address the mob while his disciples hold him back. "If you go out there," they might have said, "you'll be torn apart." But Paul has fire in his eyes. He's the bravest man they know. Or maybe the most foolish.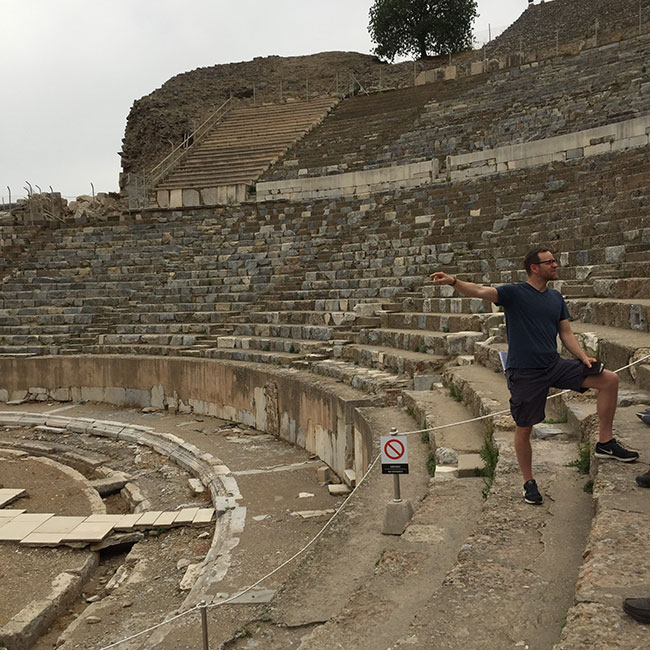 [JR gestures toward tunnels under the stage, courtesy of Doug Johnson]
Eventually the town clerk calms everyone down and tells them to go home. If the emperor charges them with rioting, they'll all be in big trouble. Sitting there, I think about the threat that Paul and his message posed to this city's status in the empire. It took guts to be Paul, trying to preach the good news of Jesus Christ in the middle of a riot.
We crawl down into the "backstage" tunnel where Paul probably waited to come out and address the crowd. We are walking around in Paul's footsteps, in Paul's story. I feel, just for a moment, the fire that burned in Paul. I realize it's incredible to walk where Paul walked and to see some of what Paul saw. But the challenge for me is to also do what Paul did: Courageously stand for Christ even under threat.
As Paul once wrote the Ephesians, let us "put on the full armor of God, so that when the day of evil comes, [we] may be able to stand [our] ground, and after [we] have done everything, to stand" (6:13).
by Michelle Curtis
Check out Exploring Ephesus, a fast-paced video adventure filled with archeological and spiritual insights on this fascinating city, also available for digital download. Learn more about ancient biblical cities and their role in the spread of Christianity in issue #124 of Christian History magazine "Faith in the City." Subscribe to get future issues of Christian History magazine, with or without a donation.
Read part 2 of this series on CHI's tour of Bible lands, the visit to Patmos. Read Part 3 on Biblical art.
Tags
Ephesus, Bible lands, history of Christianity, Paul