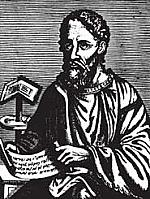 Events
727
Death of Hubert, the "Apostle to the Ardennes" (a region now comprised of Northern France, Belgium, and Luxembourg).
Authority for the date: Butler, Alban. Lives of the Saints.
1232
Pope Gregory IX canonizes Anthony of Padua, the "Wonder Worker."
Authority for the date: www.ewtn.com.
1416
Jerome of Prague is burned for heresy by the Council of Constance. He had been a follower of reformer Jan Hus.
Authority for the date: Standard encyclopedias.
1431
Joan of Arc walks to the market square in Rouen, Normandy, where she is to be burned, kneels and prays for her enemies, then mounts the pyre of wood. As the flames leap up, she asks for a cross to be held before her. Her final word is "Jesus."
Authority for the date: Christian History 30 (1991).
1525
Last preserved letter of Conrad Grebel, written from Zurich, to his brother-in-law Vadian, is a vigorous plea against attempts to suppress Anabaptists by fines, confiscation of property, imprisonment, or death.
Authority for the date: Wenger, John Christian. Even Unto Death. John Knox Press, 1961.
1527
Philip of Hesse opens the University of Marburg.
Authority for the date: Dallmann, William. Patrick Hamilton. St. Louis, MO: Concordia, 1918.
1574
Death of King Charles IX of France, haunted by superstitious terrors because of the Huguenots he had ordered to be massacred in the infamous St. Bartholomew's Day Massacre.
Authority for the date: Standard encyclopedias.
1639
Death of Metrophanes Kritopoulos, Orthodox patriarch of Alexandria, Egypt. His discussions with Protestants prompted him to write an exposition of Eastern Orthodox doctrine, based on the early church fathers, in an attempt to achieve Christian unity.
Authority for the date: Encyclopedia Britannica.
1756
Death at Bulstrode of Elizabeth Elstob, who had broken sex barriers to learn Anglo-Saxon. Among her translations was An English-Saxon Homily on the Birthday of St. Gregory, anciently used in the English-Saxon church, giving an account of the conversion of the English from paganism to Christianity. She had been a fervent defender of the Church of England.
Authority for the date: Alexander Chalmers, General Biographical Dictionary
1792
William Carey preaches a famous sermon on Isaiah 54:2-3, before the Baptist Association meeting in Nottingham, England, at the Friar Lane Baptist Chapel, urging his listeners to "expect great things, attempt great things."
Authority for the date: Biographical Dictionary of Evangelicals.
1819
At the request of his father-in-law, Anglican bishop Reginald Heber pens the words to his missionary hymn, "From Greenland's Icy Mountains."
Authority for the date: Hatfield, Edwin. The Poets of the Church. New York: Anson D. F. Randolph & Company, 1884.
1822
A slave betrays plans for a massive uprising planned by African Methodist preacher Denmark Vesey in Charleston, South Carolina. One hundred and thirty one African Americans are arrested and Vesey's church is closed. Some of the plotters will be executed and others deported.
Authority for the date: Christian History 62 (1999).
1858
Ordination in Maryland of Charles Grafton as a priest in the Episcopal Church. He will found the Sisters of the Holy Nativity and later, as a bishop, will stir controversy because of his fondness for ritual and vestments.
Authority for the date: Episcopal Church. Holy Women, Holy Men.
1868
In a letter, Father Weld accepts Gerard Manley Hopkins into the Jesuits. Hopkins will work as a priest among the poor, writing, but not publishing, the poems for which he is famous today, which the world will first see after his death.
Authority for the date: Ballinger, Phillip A. The Poem as Sacrament: The Theological Aesthetic of Gerard Manley Hopkins. 1977
1892
Death in Lucknow, India, of Ram Chandra Bose. An ardent Christian evangelist and educator, he had written apologetics, served as a member of India's Congress, and been a delegate to international religious conferences.
Authority for the date: Chronicle of the London Missionary Society.
1933
Death in Boga, Congo, of African evangelist Apolo Kivebulaya.
Authority for the date: Gordon, Ernest. Book of Protestant Saints. Chicago: Moody, 1946.
1972
Death in prison of Watchman Nee, famed Chinese evangelist.
Authority for the date: Standard encyclopedias.