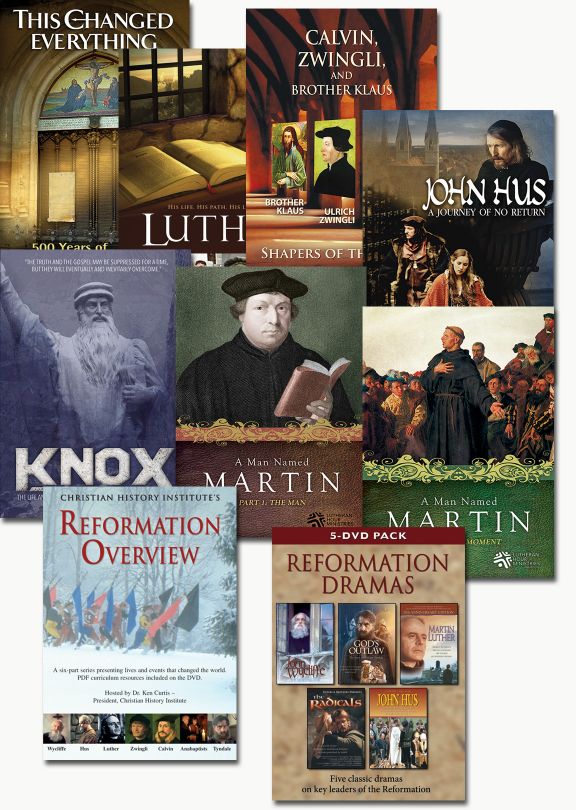 Reformation
Reformation Set of Nine
Set includes: This Changed Everything Luther: His Life, His Path, His Legacy Calvin, Zwingli, and Brother Klaus John Hus: A Journey of No Return Knox A Man Named Martin, Part 1 A Man Named Martin, Part 2 Reformation Overview Reformation Dramas 5-DVD Pack
Item number: 97442D
Media type: DVD
Running Time: 20 hr
Region: All
Production Year:
Producer:
Description
This Changed Everything — In this three-part documentary series hosted by actor David Suchet, leading church historians share insights and pose vital questions about unity, truth, and the future of the Christian church. Among the experts featured in this series are Dr. Frank James, Dr. John Armstrong, Dr. Michael Horton, Dr. Jacqueline Rose, Bishop Robert Barron, Mark Galli, Dr. Joel Harrington, Shane Claiborne, Dr. Karin Maag, Dr. Scott Kisker, and many others. Bonus material on Disc 2: Over five hours of interviews with experts, virtual tours of key Reformation sites, companion guide in PDF. An interactive guide is also available at www.ThisChangedEverything.com/companionguide.

Luther: His Life, His Path, His Legacy — This comprehensive documentary traces the footsteps of the great Reformer and reflects upon the places that have become inseparably connected with his name. The program features stunning dramatic footage from the 2003 theatrical film, "Luther" along with interviews with experts discussing his life and work. Also includes an interview with Joseph Fiennes and others involved in the "Luther" production. Widescreen.

Calvin, Zwingli, and Brother Klaus — John Calvin, Ulrich Zwingli, and Brother Klaus (Niklaus von Flüe) were three very different men who shaped the Christian faith in Switzerland. John Calvin was as an intellectual giant of the Reformation, Ulrich Zwingli was a humble priest who brought reform to the church and died in battle, and Brother Klaus was a mystic who left everything to seek God in the wilderness. In comparing and contrasting these three figures, we see how the practice of the faith changed in Switzerland in the late Middle Ages. These changes would ultimately impact the entire world.

John Hus: A Journey of No Return — 14th century Czech priest and scholar John Hus is considered one of the first Protestant reformers. His interpretation of scripture and his bold stand against church corruption would strongly influence Martin Luther a century later. Hus spent his last days as a prisoner in Constance on charges of heresy. This historically based documentary produced for Czech television features outstanding dramatized scenes that reveal Hus's humanity and depict his unwavering commitment to God's mercy and justice.

Knox — Presented by Scottish actor Phillip Todd, "Knox" takes another look at the life and legacy of one of the church's great reformers. Follow in the footsteps of John Knox as he makes his epic journey from Catholic priest to a passionate Protestant preacher facing down the most famous Scottish queen of all time. Incorporating dramatic animations and interviews with leading experts, the story of John Knox is brought to you as you've never seen it before. Widescreen. Optional English subtitles.

A Man Named Martin, Part 1 — This documentary will examine the life and teaching of this great reformer. The program gives important historical background and explains the key doctrines expounded by Luther: With tenacity and bravery, Martin Luther inspired a Reformation that reverberates throughout the centuries. Also includes a five part Bible study version. Widescreen. Optional English Subtitles.

A Man Named Martin, Part 2 — In A Man Named Martin—Part 2: The Moment, viewers will witness the interplay of personalities and events that led to the Protestant Reformation. From Luther's inner struggles of conscience and faith to his call for debate with the Pope to his scathing rebuke of erroneous church practice, this installment examines the semi-scriptural and oft-times unethical teachings and doctrines of the late Medieval Church and how Luther addressed them. A cast of scholars and professional church workers share their expertise on the cultural and religious milieu in which Luther operated. A discussion guide, complete with numerous Internet links and helpful questions, assists viewers toward a deeper understanding of this critical period in the life of Christ's church on earth. A supplementary text, The Reformation Twelve, gives viewers a look at the prominent figures who shared the religious stage in early 16th-century Europe. DVD includes both the 65-minute television version and a three-part Bible study version with PDF guides and optional English subtitles.

Reformation Overview — These six half-hour programs vividly bring to life the Reformation, its colorful leaders, and history-shaping turning points. Fullscreen. 1. John Wycliffe 2. John Hus 3. Martin Luther 4. Ulrich Zwingli and John Calvin 5. The Anabaptists 6. God's Outlaw: William Tyndale. PDFs included on the DVD: 48-page leader's guide with background information, discussion questions, and optional Bible study for each session. 24-page student workbook.

Reformation Dramas 5-DVD Pack — Includes:. John Wycliffe: The Morningstar — John Wycliffe is a dramatic biography of the life of the 14th century scholar and cleric who translated the Bible into English for the first time. 75 minutes. God's Outlaw: The Story of William Tyndale — God's Outlaw is about international politics, church intrigue, cold-blooded betrayal, and false justice ending in a criminal's death. But it's also about victorious faith and spiritual triumph over some of the greatest political and religious forces in the 16th century. 93 minutes. Martin Luther — This dramatic black and white classic film made in the 1950's is a magnificent depiction of Luther and the forces at work in the surrounding society that resulted in his historic reforming efforts. 105 minutes. The Radicals — Michael and Margaretha Sattler join a group called the Anabaptists and together challenge the 1,000-year control of the Church by the State. 99 minutes. John Hus — Intrigue and false promises weave a powerful story of one man's commitment to faith in Jesus Christ. In the end Hus was accused, imprisoned, and charged with heresy. Ultimately, he was condemned and burned at the stake as a heretic. 55 minutes.