Theology Tested by Trial
During the summer of 1670, when preacher Increase Mather had just turned 31, he began experiencing severe nightmares. He handled this "distress and Anguish" in Puritan fashion: pleading for God's love while submitting to God's sovereign will. Because of copyright considerations we have not reproduced the text from Mather's autobiography which appeared in the Proceedings of the American Antiquarian Society Vol. 71.
By Increase Mather
[Christian History originally published this article in Christian History Issue #41 in 1994]
Next articles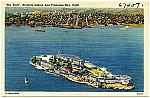 Editor's note: Captive faith
In 2008, our founder Dr. Ken Curtis (1939–2011) wrote this introduction for prison testimonies throughout church history.
Ken Curtis
Show more