Letters to the editor
Every day with Christian History
• I find your materials to be one of the few things I intend to pass along to my children when I am gone—they are wonderful!—Robert Elkins, Corfu, NY
• I am president of The Interfaith Council of Greater Sacramento. We have been in existence in California's capital city since 1911. I love your magazine. It informs us of so many good things. I just wanted to say thank you and let you know what good you do for our minds, souls, and hearts.—Jon B. Fish, Sacramento, CA
• Thanks for your magazine and your daily Christian history postings. They provide great strength and incentive to me. Reading about these people makes my problems seem paltry in comparison to what they went through.—E.D. Bogan, Troy, OH
We'd like to encourage all readers to check out our daily postings, which you can find on our website under "This Day in Christian History."—The Editors
Order Christian History #120: Calvin, Councils, and Confessions in print.
Subscribe now to get future print issues in your mailbox (donation requested but not required).
Praise for Quakers and creation
• Another outstanding issue—117. I have run out of superlatives for your work. Pray, keep amazing me with future issues. I know that the return on investment of what I am able to donate is many, many times the amount and hope other readers feel the same. Lord Bless!! —Tom Edmunds, Washington, NJ
• Just a quick note to say how much I enjoyed the issue of Christian History [119] on the Wonder of Creation. I especially appreciate your ecumenical approach: the inclusion of Catholic thought, history and poetry. And above all, I liked the poetry with the beautiful images (Herbert and Hopkins are two of my favorites). —Melinda Zook, contributor to CH 118
• I've received the Christian History issue on creation —wow, it's just so lovely! You've done a stellar job putting it together, and I feel very privileged to have been invited to take part. Thank you for including me. —Kathleen Mulhern, contributor to CH 119
• The entire issue [119] is great! Christian History is one of the favorite and most used magazines of our students in the Bruderhof. I wish you God's continued blessing in your work. —Charles Moore, contributor to CH 119
Thanks, Tom, Melinda, Kathleen, and Charles! We'll try to keep amazing you. —The Editors
If you want more reading…
• Doug Anderson of Orange City, IA, wrote in recommending Mark Stoll's Protestantism, Capitalism and Nature in America (1997) and Inherit the Holy Mountain (2015), and Belden C. Lane's Ravished by Beauty (2011) as further resources on the topic of issue 119.
Hail to the wrong chief
• In the article in issue 74, Christians and Muslims, called "Hail to the new chiefs," it says that "The first Islamic caliph (deputy), Abu Bakr, was murdered…" This is not correct as Abu Bakr died of old age after he fell sick, on August 23, 634. This is clearly a confusion between Abu Bakr and Uthman (the 3rd Caliph after Umar). —James Poh
Thank you for catching this. We're always eager to make sure everything on our website is correct. —The Editors
And while we are at it…
• [In CH issue 118] pg. 31 Donatists were in the fourth century, not fifth century; pg. 21 Fredrick the Wise, Elector of Saxony, not John; pg. 44 Jacob Hutter started Hutterites, not Hans Hut; on the back cover, the picture of past issue 3 is Huguenots not Wycliffe. —Wayne Wright, Wyoming, MI
Thank you for such attentive reading! Donatists indeed arose in the fourth century, but are famous to many readers of church history because of their fifth-century controversy with Augustine. Frederick the Wise, his brother John, and John's son all protected and supported Luther; the sermon on p. 21 is usually thought to have been preached before John. Jacob Hutter gave his name to the Hutterites, but Hans Hut was also associated with their formation in Moravia.
In issue 119, while the photographer of the Niagara Falls image on p. 22 took the picture while standing in Canada, the image is of the American falls. And also in 119, Ellen F. Davis accidentally acquired Edward B. Davis's middle initial.
Finally, in the timelines for issues 115 and 118, an error in transposing text meant that we had John Calvin returning to Geneva from exile in Strasbourg in 1540 rather than—as you'll hear at length in this issue—1541. We regret all the errors and have corrected them on the website. —The Editors
This article is from Christian History magazine #120 Calvin, Councils, and Confessions. Read it in context here!
Christian History's 2015–2017 four-part Reformation series is available as a four-pack. This set includes issue #115 Luther Leads the Way; issue #118 The People's Reformation; issue #120 Calvin, Councils, and Confessions; and issue#122 The Catholic Reformation. Get your set today. These also make good gifts.
By various
[Christian History originally published this article in Christian History Issue #120 in 2016]
Next articles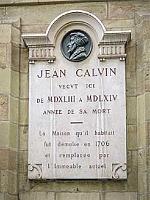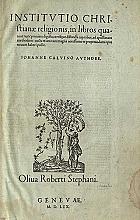 Show more
Subscribe to magazine
Subscription to Christian History magazine is on a donation basis
Subscribe
Support us
Christian History Institute (CHI) is a non-profit Pennsylvania corporation founded in 1982. Your donations support the continuation of this ministry
Donate