Fasting: from the Orthodox front lines
Food has so much significance in Christian lives that we should also consider the spiritual discipline of not eating. In the Christian West, "fasting" usually means eating no solid food at all; this is often done by an individual, a group, or a congregation to focus on a particular prayer need. Eastern Christianity practices a tradition of fasting as a community, on a regular schedule. It is not a total fast; here, "fasting" means no meat, dairy, or fish—basically, keeping a vegan diet.
As you might expect, we keep this fast during Lent, the 40 days before Easter (Pascha, to Orthodox), but we also fast during three other, smaller "Lents" in the year: the Nativity Fast (before Christmas), the Apostles' Fast (after Pentecost), and the Dormition Fast (before the feast of the Dormition of Mary on August 15).
Fasting is voluntary, and we are not supposed to notice if someone else is not fasting; that's between them and God. Anyone with a health need is exempted—those who are ill, small children, pregnant or nursing women.
resisting cheeseburgers
But in addition to those four "Lents," we also fast on most Wednesdays and Fridays. This is one of the most ancient Christian spiritual disciplines. Do you remember the Pharisee in Jesus's parable (Luke 18:12) who said, "I fast twice a week"? Christians in the Middle East simply continued the practice, but changed the days.
This is mentioned in a famous first-century text that describes early Christian worship and practices, the Didache; it reminds its hearers that Jews fast on Monday and Thursday, then states that Christians don't do that; we "fast on the fourth day [Wednesday] and the Preparation [Friday]." We fast on Wednesday in observance of Judas's betrayal and on Friday in observance of the Crucifixion.
The purpose of this fasting is not as payment for sins, since Orthodox believe God forgives us freely, but as a strengthening exercise to withstand future sins. Resisting a cheeseburger at noon on Friday makes you stronger to resist anger at Friday rush hour.
When you add them all up, these fast days make up more than half the days of the year. It makes a difference that we do this all together, supporting each other and sharing recipes in the community. When a person is joining the Orthodox Church, the custom of fasting looks shockingly hard at first, even impossible. Then when you see young and old alike keeping the fast without complaint, you try it out and find that you too can do it; you have more inner strength than you knew. Fasting together and supporting each other, we grow together in Christ.
By Frederica Mathewes-Green
[Christian History originally published this article in Christian History Issue #125 in 2018]
Frederica Mathewes-Green, author of
Welcome to the Orthodox Church
and numerous other books, and frequent essayist and public speaker.
Next articles
Recipes
recipe suggestions from friends of Christian History
Josh Hale, Barbara J. Hale, Frederica Mathewes-Green, Julie Byrne, Mary Anne Tietjen Byrne, Quita Sauerwein
Christian History Timeline: Feasting and Fasting
From the beginning of the church, Christians have both feasted and fasted. This timeline highlights some important moments in each of those journeys, especially ones discussed in this issue.
Jennifer Woodruff Tait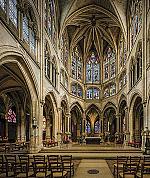 Show more
Subscribe to magazine
Subscription to Christian History magazine is on a donation basis
Subscribe
Support us
Christian History Institute (CHI) is a non-profit Pennsylvania corporation founded in 1982. Your donations support the continuation of this ministry
Donate