WITH ZEAL AND COURAGE, LEIGH PLANTED CHURCHES "DOWN UNDER"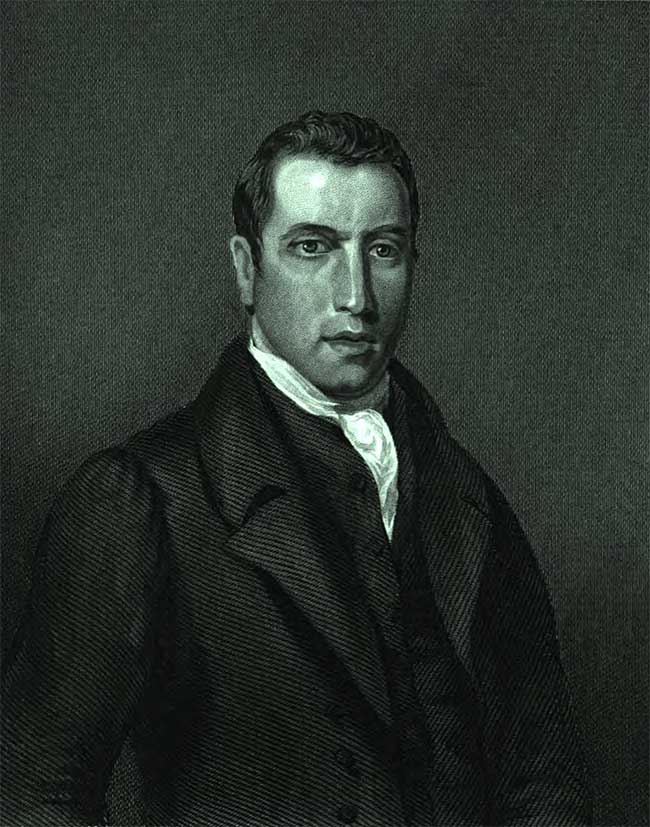 [above: Samuel Leigh, cover of Alexander Strachan, Remarkable Incidents in the Life of the Rev. S. Leigh, Missionary ... London: Hamilton, Adams]
Samuel Leigh arrived in Sydney, Australia, on this day, 10 August 1815. He had sailed in a convoy from England as a Wesleyan missionary, leaving behind his elderly mother and a dying sister. Throughout the voyage he won souls and showed courage in face of heavy storms that separated and destroyed part of the convoy. Imagine his shock upon disembarking from The Hebe to learn that Australia's governor might not let him stay in the country.
Lachlan Macquarie was a Church of England man who wanted religious unity in the colony. He offered Leigh a job. But Leigh refused to betray the trust of those who had sent him. He laid out his aims. Won over, Macquarie assisted Leigh to travel around the colony.
Leigh wasted no time in building up the small Wesleyan groups that had formed before his coming. And he extended work in every direction. In his first four years he formed a one-hundred-and-fifty-mile circuit of fourteen meeting places that he rounded every three weeks. To ensure the good will of the Church of England, he scheduled Wesleyan meeting times to avoid conflict with the state church. (Later this policy led to infighting among the Wesleyans when new missionaries refused to abide by Leigh's arrangement.)
The work was too much for one man. Leigh pleaded for helpers. His health began to deteriorate because of his ceaseless travels in hot weather and in cold. He did more than preach. At the close of every day's march he collected people and explained the way of salvation to them. In this way, many convicts and settlers heard the gospel.
In 1819, Walter Lawry arrived to assist Leigh. Trouble ensued. Leigh was rigid, Lawry easygoing. Lawry tactlessly pointed out Leigh's deficiencies. And he won the hand of a woman Leigh had tried to woo.
Leigh accepted an invitation from Samuel Marsden, a Church of England missionary, to rest his health with a visit to New Zealand. Whatever benefit Leigh got from his nine months in New Zealand, his health broke again in 1820 and he returned to England to recuperate. There he convinced the Wesleyans to expand their work in Australia and the South Seas. As a result, he was appointed to start a mission in New Zealand.
When Leigh returned to the South Seas, he was a married man. Catherine Clewes was a woman of great faith and ability. Alarmed at the high rate of infanticide among the Maori, she conceived a plan to dress every infant in highly-prized European clothes, promising to visit each child to watch over its growth and development. In this manner she saved scores of lives. Meanwhile, Leigh learned the Maori language and founded Wesleydale. He paid the Maori double what they asked for their land, telling them Christ required him to give a fair price for it.
Wesleydale was destroyed during Maori wars. Sailing from New Zealand, the Leighs were shipwrecked. In 1823 they got back to Australia where Leigh oversaw part of his old circuit until 1831. That year Catherine died while tending the sick during an epidemic.
Broken by the loss of his wife, Leigh returned to England. Eventually he recovered enough to take up ministry in England and to remarry. He retired after twelve years of work around Gravesend and died in 1852 following a stroke.
Meanwhile the Wesleyan Methodists became a major Protestant denomination in colonial Australia, and the Maori people were able to raise wheat and European fruits and vegetables from observing the methods used at Wesleydale.
Alexander Strachan summed up Samuel Leigh's accomplishment in these words.
In 1815 Mr. Leigh was the only Wesleyan missionary in the South Seas. He was patronized by two school masters and their wives, ten or twelve soldiers and reformed convicts, and a few disorderly children in a Sunday-school. When he returned to England, he left in those islands nine circuits, fourteen missionaries, seven hundred and thirty-six communicants, and one thousand children in the schools.
—Dan Graves
----- ----- -----
More than two centuries later, a young Australian showed boldness worthy of Leigh when he confronted ten people a day in the streets of Sydney with a simple question that led many to Christ. Watch The Frank Jenner Question