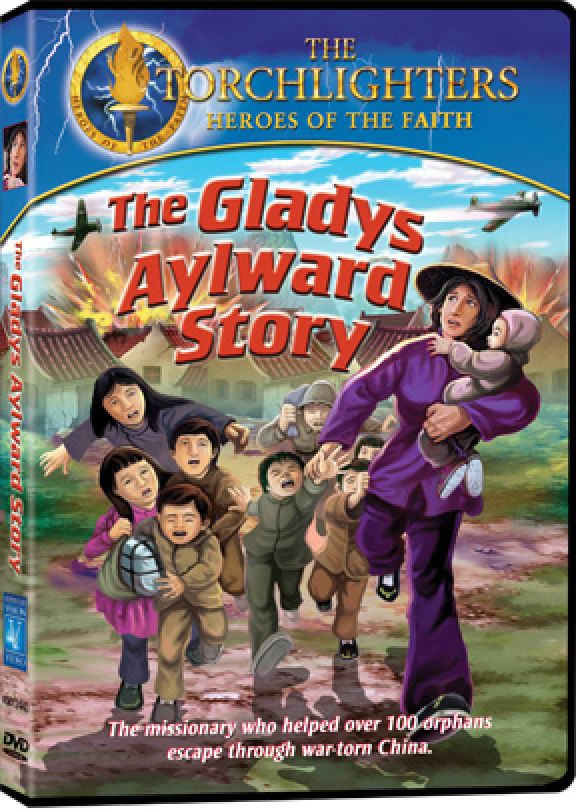 Torchlighters: Gladys Aylward Story
The missionary who led 100 orphans 100 miles to safety through war-torn China.
Item number: 501244D
Media type: DVD
Running Time: 30 min
Region: All
Production Year: 2008
Producer: Christian History Institute
Description
With war raging about her and soldiers closing in, the wounded missionary Gladys Aylward (as portrayed in the movie, The Inn of the Sixth Happiness) sets out on the most difficult journey of her life -- a 100-mile trek over the mountains to a safe haven.

But it's not her own safety that concerns this little woman with big faith. It's the safety and well being of the 100 orphaned children in her care. Watch as Gladys' strength and faith are stretched to the limit, all for the sake of the children. Fullscreen

Torchlighters is a series of animated programs for youth ages 8-12, presenting the lives of true-life heroes from Christian history. When kids see what God can do through a "Torchlighter" who is devoted to carrying out His will and purposes, they too may want to carry a torch of faith by serving Him. For more information on the series, visit www.torchlighters.org.

DVD Features:
Language: English and Spanish
Subtitles: English and Spanish
Special Features:
- Original documentary featuring biographer Carol Purves and Gladys' adopted son Clifford Liu
- Comprehensive leader's guide with lesson plans, background information, and more (also available at www.torchlighters.org)
- Reproducible student handouts, including discussion questions, puzzles, coloring pages, and more (also available at www.torchlighters.org)
- Many additional resources available online at www.torchlighters.org

Customers in Australia or New Zealand, please visit www.christianmultimedia.org.au.