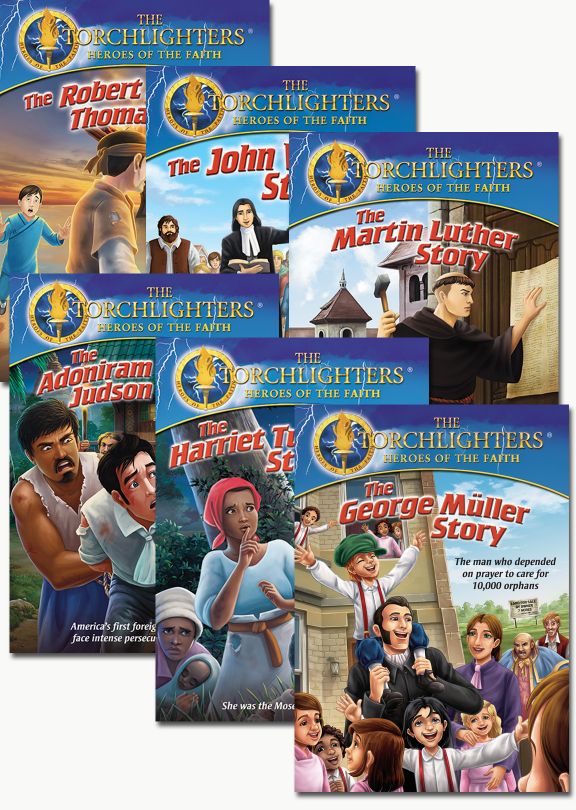 Torchlighter New Release Bundle
Learn more about John Wesley, Robert Jermain Thomas, Martin Luther, Adoniram and Ann Judson, Harriet Tubman, and George Müller in this bundle of Torchlighter DVDs.
Item number: 97471D
Media type: DVD
Running Time: 154 min
Region: All
Production Year:
Producer:
Description
John Wesley — When young John Wesley is miraculously saved from his family's burning home, his mother is certain that God has a great purpose for the boy's life. John will later refer to himself as a "brand plucked from the burning." As a man, Wesley tries to live out that special purpose on his own strength and good works, but it only brings frustration and failure. Finally, after years of struggle, Wesley embraces saving grace! But his new message is not welcome in the established churches. Will John break all the rules and take his message outside the church walls to the needy and outcast? Find out in this action-packed episode of The Torchlighters, featuring the founder of the Methodist movement.

Robert Jermain Thomas — Young Robert Jermain Thomas is a promising Welsh minister with a gift for new languages. For Robert, there is no doubt God wants him to use his abilities to bring the Gospel of Jesus to the Far East. But when he suffers tragedy in China, Robert loses direction and hope. That is, until he meets two Christian fishermen from the "Hermit Kingdom" of Korea who want to know more. Though Christianity is illegal and Westerners forbidden, Robert has a new mission: to bring the Word of God to the Korean people, no matter the cost. What will Robert have to sacrifice to share God's Word with Korea?

Martin Luther — In a world ruled by a corrupt and greedy church, all it took was one little nail, one well-written scroll, and one sharp-tongued monk to turn everything upside-down! Martin Luther didn't mean to spark the Reformation with his 95 Theses, but his realization that salvation comes through faith and not works ignited the revolution that changed the world. As Pope Leo X hounds and fights him at every turn, will Luther have the courage to stand strong—even to death? Find out with the fifteenth episode of the Torchlighters, commemorating the 500th anniversary of the Reformation!

Adoniram and Ann Judson — Adoniram Judson and his wife Ann were the first missionaries from the United States. The young couple set out for Burma where they worked to reach souls in a land where professing Christ would mean certain death. When religious leaders falsely accused Adoniram of spying, Burma's ruthless king threw him into prison, leaving Ann and her unborn child to struggle alone. Will Adoniram escape death and reunite with his wife and child? Will their Bible translation, the only one of its kind, be lost forever?

Harriet Tubman — For centuries slavery reigned in parts of America, forcing an entire people into a lifetime of suffering and servitude. Living under the thumb of this oppressive system, young Harriet Tubman prayed ceaselessly that she and her family would be set free. Little did she know, God would use her and her resolute faith in Jesus to rescue not only her own family, but hundreds of other enslaved African-Americans as well. Discover how Harriet followed God, became the Moses of her people, and persevered despite seemingly insurmountable obstacles in this latest episode of The Torchlighters.

George Müller — George Müller lives on radical prayer, depending on God to supply all his needs without asking for a cent from anyone—not even the congregation he pastors! When his ministry efforts bring him into contact with the neglected street children of the city of Bristol (England), he discovers that the workhouses force these desperate orphans into unpaid labor. George realizes he must do what he has done in countless other situations: pray and trust God to accomplish the impossible. George and his wife, Mary, open the first orphanages supported entirely by prayer, and God miraculously provides for their every need. But enemies of George's work devise a plan to shut him down for good. Will George's trust in God's provision remain strong in the face of cunning opponents and desperate circumstances? Children and adults alike will see radical faith in action in this episode of The Torchlighters.