John Wesley argues that Methodists should be engaged in "honest industry"
IT IS the bounden duty of all who are engaged in worldly business to observe that first and great rule of Christian wisdom with respect to money, "Gain all you can." Gain all you can by honest industry. Use all possible diligence in your calling. Lose no time. If you understand yourself and your relation to God and man . . . [i]f you understand your particular calling as you ought, you will have no time that hangs upon your hands. . . . Never leave anything till tomorrow, which you can do to-day. And do it as well as possible. Do not sleep or yawn over it: Put your whole strength to the work. Spare no pains. . . .
But let not any man imagine that he has done anything, barely by going thus far, by "gaining and saving all he can," if he were to stop here. . . . As you yourself are not your own, but his, such is, likewise, all that you enjoy. Such is your soul and your body, not your own, but God's. . . . If you desire to be a faithful and a wise steward . . . first, provide things needful for yourself; food to eat, raiment to put on, whatever nature moderately requires. . . . Secondly, provide these for your wife, your children, your servants, or any others who pertain to your household. If when this is done there be an overplus left, then "do good to them that are of the household of faith." If there be an overplus still, "as you have opportunity, do good unto all men.". . . [A]ll that is laid out in this manner is really given to God. . . . Waste nothing, living or dying, on sin or folly, whether for yourself or your children—and then, give all you can, or, in other words, give all you have to God.
By John Wesley
[Christian History originally published this article in Christian History Issue #110 in 2014]
John Wesley was an 18th-century evangelist in England.
Next articles
What would Jesus do?
Snapshots from the book God at Work: The History and Promise of the Faith at Work Movement
David W. Miller
Recommended resources: Vocation
Learn more about the stories featured in this issue, and put God's calling to Christians throughout history in context, with resources recommended by CH editorial staff and this issue's contributors
the Editors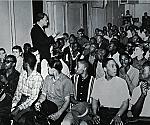 Show more
Subscribe to magazine
Subscription to Christian History magazine is on a donation basis
Subscribe
Support us
Christian History Institute (CHI) is a non-profit Pennsylvania corporation founded in 1982. Your donations support the continuation of this ministry
Donate