Christian History timeline: Latin American Christianity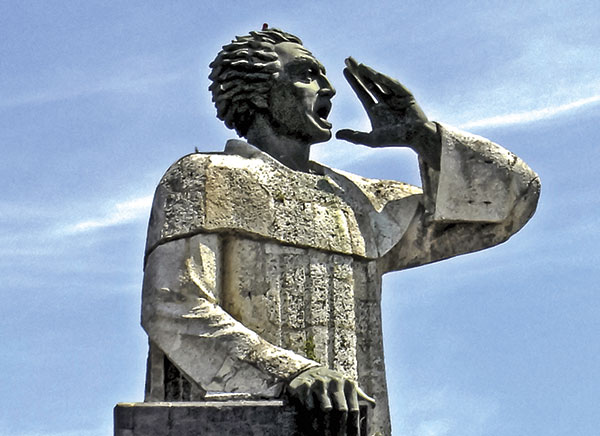 [Antonio de Montesinos shouts against slavery / Wikimeda]
— 1492 Columbus lands on Guanahani, which he renames San Salvador.
— 1493 Papal Bulls of Donation give Portugal and Spain rights in the "New World."
— 1494 Treaty of Tordesillas divides the "New World" between Spain and Portugal.
— 1502 First Africans arrive as slaves in Haiti.
— 1508 Papal bull Universalis Ecclesiae gives control of the Spanish colonial church to the Spanish crown.
— 1511 Dominican friar Antonio de Montesinos denounces the enslavement of indigenous people.
— 1513 First Catholic diocese is founded in Santo Domingo on the island of Hispaniola.
— 1514 Bartolomé de las Casas begins his defense of the indigenous peoples.
— 1521 Hernán Cortés conquers the Aztecs and renames Tenochtitlán Mexico City.
— 1524 First Franciscan missionaries come to Mexico.
— 1531 Juan Diego Cuauhtlatoatzin sees a vision of the Virgin Mary near Villa de Guadalupe.
— 1532 Conquest of Peru begins.
— 1537 Papal bull Sublimus Dei declares the Indians to be fully human.
— 1542 De las Casas completes A Short Account of the Destruction of the Indies.
— 1551 First Council of Lima organizes the Catholic Church in Latin America.
— 1570 Inquisition begins in Peru.
— 1609 First Jesuit mission is established in Paraguay.
— 1617 Famed mystic and Dominican tertiary Rosa de Lima dies.
— 1619 English settlers bring African slaves to Virginia.
— 1620 Diocese of Buenos Aires founded.
— 1654 Pedro Claver y Corberó, Spanish Jesuit missionary to Colombia, dies. He may have baptized 300,000 slaves.
— 1693 Sor Juana Inés de la Cruz, a Mexican nun, defends a woman's right to study.
— 1767 Jesuits are expelled from Spanish colonies.
— 1780 Inca leader Túpac Amaru leads an unsuccessful revolt in Peru.
— 1789 Spain opens colonies to all slave traders.
— 1804 Haiti wins independence from France.
— 1810–1824 Spanish colonies revolt and become independent from Spain.
— 1818 James "Diego" Thomson arrives in Buenos Aires.
— 1822 Brazil wins independence from Portugal.
— 1823 US proclaims Monroe Doctrine.
— 1824 Guatemala is first Latin American nation to outlaw slavery.
— 1845 US annexes Republic of Texas.
— 1846–1848 Mexican-American war is fought, reducing Mexico's territory to the region south of the Rio Grande.
— 1858 Latin American Pontifical College opens in Rome.
— 1888 Brazil abolishes slavery, the final Latin American nation to do so.
— 1890 Pan-American Union is founded (later becoming the Organization of American States).
— 1898 The US takes Puerto Rico and the Philippines in the Spanish-American War.
— 1899 Latin American Plenary Council meets in Rome.
— 1909 Pentecostal revivals begin in Chile.
— 1910 Swedish Pentecostals bring Pentecostalism to Brazil.
— 1913 Committee for Cooperation in Latin America unifies Protestant mission agencies and churches.
— 1914 Panama Canal opens.
— 1926–1929 Government anticlerical policies in Mexico result in the Cristero Rebellion.
— 1929 At the Havana Congress, Protestant denominations speak in favor of "Latinizing" indigenous churches.
— 1946 US Army opens the School of the Americas in Panama to train counterinsurgents. The SOA will be expelled from Latin America in 1984.
— 1949 Latin American Evangelical Conference is held.
— 1956 Five evangelical missionaries are murdered in Ecuador.
— 1959 Cuban Revolution installs Fidel Castro.
— 1962–1965 Vatican II convenes. Chicano movement develops Latino theologies.
— 1967 Argentine revolutionary "Che" Guevara is executed.
— 1968 Latin American Council of Bishops meets in Medellín, Colombia. Paulo Freire publishes Pedagogy of the Oppressed.
— 1969–1972 Jesuit priests spread the Catholic Charismatic movement in Brazil.
— 1971 Gustavo Gutiérrez publishes A Theology of Liberation.
— 1973 Augusto Pinochet assumes power in Chile.
— 1978 John Paul II becomes pope.
— 1979 Sandinista government comes to power in Nicaragua.
— 1980 Salvadoran civil war begins; Archbishop Óscar Romero is assassinated while saying Mass.
— 2013 Jorge Mario Bergoglio, archbishop of Buenos Aires, is selected as first Latin American pope, Pope Francis.
By the editors
[Christian History originally published this article in Christian History Issue #130 in 2019]
Next articles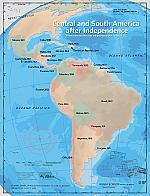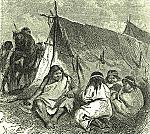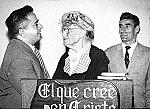 Show more
Subscribe to magazine
Subscription to Christian History magazine is on a donation basis
Subscribe
Support us
Christian History Institute (CHI) is a non-profit Pennsylvania corporation founded in 1982. Your donations support the continuation of this ministry
Donate