Something here sounds familiar
POPE FRANCIS wrote me a letter last year—and he wrote you one too!
The pope's encyclical Laudato Si' may well turn out to be the most important in a long line of papal writings on Catholic social teaching. More deliberately than any previous encyclical, this declaration is addressed not just to clergy, or to Catholics, or even to Christians. Rather, Francis says, "I wish to address every person living on this planet." And perhaps no encyclical has immediately been noticed, read, and commented on by so many people, both inside and outside the church. Its "explosive" content is, of course, as old as Genesis:
Order Christian History #119: The Wonder of Creation in print.
Subscribe now to get future print issues in your mailbox (donation requested but not required).
… human life is grounded in three fundamental and closely intertwined relationships: with God, with our neighbour and with the earth itself. According to the Bible, these three vital relationships have been broken, both outwardly and within us. This rupture is sin. … This allows us to respond to the charge that Judeo-Christian thinking, on the basis of the Genesis account that grants man "dominion" (cf. Gen 1:28) over the earth, has encouraged the unbridled exploitation of nature by painting him as domineering and destructive by nature.
Brother ant and sister fire
The charge that a biblical understanding encourages "unbridled exploitation" has become unquestioned orthodoxy in the environmental movement, dating to a 1967 article by Lynn White, "The Historic Roots of Our Ecologic Crisis." So perhaps the greatest service of Laudato Si' is the way it refutes this.
The first part of White's argument is endlessly assumed by many as fact: that in Western Christianity "no item in the physical creation had any purpose save to serve man's purposes." This is the assumption that any Christian working for the care of creation in the secular and academic worlds has to overcome.
But the conclusion of White's article is often forgotten. There he points to the man he calls "the greatest radical in Christian history since Christ: Saint Francis of Assisi." He outlines Francis's sense of humility, his identification with the humble Christ, and his affirmation of humanity's shared creatureliness with "Brother Ant and Sister Fire." He concludes by proposing Francis as a "patron saint for ecologists."
But White makes the serious error of thinking that Christians would find St. Francis's views heretical. Pope Francis magnificently reverses this error. The words Laudato si' are in fact the Tuscan words "Be praised" that open Francis's great "Canticle of the Sun" (see p. 14; we also know it as the hymn "All Creatures of Our God and King"). Pope Francis leaves no doubt that this encyclical is an attempt to apply the radical Christianity of his namesake to the problems of the contemporary world:
I believe that Saint Francis is an example par excellence of care for the vulnerable and of an integral ecology lived out joyfully and authentically … . He was particularly concerned for God's creation, and for the poor and the outcast. …
These prefatory words set the tone of worship and joy for Pope Francis's often-stringent calls for change. For the encyclical is not simply about climate change and inequality, it is a recovery of the whole Christian Gospel that shows the Gospel's relevance for these crucial problems.
Though the first chapter ("What Is Happen-ing to Our Common Home") draws heavily on contemporary science to show the degradation to creation brought about by human activity, the second chapter ("The Gospel of Creation") draws heavily on Scripture to show how thoroughly creation is a good gift of God. Here Francis implicitly answers critics who say that the church shouldn't be dabbling in science. Such critics are ignorant of the crucial way in which early Western science grew from Christian—indeed from Franciscan—roots.
In the third chapter ("The Human Roots of the Ecological Crisis"), Francis makes an eloquent case that the pragmatic desire of the West to make knowledge useful has crowded out the more worshipful attitude exemplified by Saint Francis and much of Eastern Christianity, which asks how knowledge helps us honor the creature and praise the Creator.
We're all in this together
Francis's fourth chapter shows decisively that a right "ecology" (a word that means, after all, something like "ordering the household") must include both societal and environmental health. There can be no human well-being without planetary well-being: the problems of the poor are inseparable from "environmental" problems.
He makes his most pointed and controversial case in the fifth chapter ("Lines of Approach and Action"): "Technology based on the use of highly polluting fossil fuels—especially coal, but also oil and, to a lesser degree, gas—needs to be progressively replaced without delay." Such a replacement would challenge many powerful interests in our society, and the pope's position is a bitter pill to swallow for those who deny the human role in climate change.
Francis connects to people's daily life in the sixth and final chapter ("Ecological Education and Spirituality"). He calls all people—those of the wealthy world in particular—to question their habits of consumption and to begin to live more simply and less wastefully. He argues that we need to use the gifts of creation in an attitude of thankfulness and joy.
To those Christians serious about the practice of their faith, he calls for a Christian understanding of the Sabbath and refers to the Eucharist as the way in which we regularly participate in Christ's Incarnation:
For Christians, all the creatures of the material universe find their true meaning in the incarnate Word, for the Son of God has incorporated in his person part of the material world, planting in it a seed of definitive transformation. … It is in the Eucharist that all that has been created finds its greatest exaltation.
There is nothing fundamentally new in Laudato Si', but I mean that as high praise. My wife, Mary Ruth, and I have been teaching and writing on these issues for over 40 years. Laudato Si' outlines nothing less than the good news that in Christ there is a healing of creation.
The encyclical grows from the same deep roots evangelicals have in common with true Catholicism. But whether Catholic or Protestant, the Gospel is empty if not lived out. And much of the criticism the encyclical has received seems an attempt to squirm away from the Gospel's implication for us contemporary rich Christians. Laudato Si'—like the Gospel—has hard words for us. That's why we should read and heed it. CH

This article is from Christian History magazine #119 The Wonder of Creation. Read it in context here!
By Loren Wilkinson
[Christian History originally published this article in Christian History Issue #119 in 2016]
Loren Wilkinson is professor of interdisciplinary studies and philosophy at Regent College, editor of Earthkeeping, and coauthor with Mary Ruth Wilkinson of
Caring for Creation in Your Own Backyard
. This article is adapted from an article originally published in The Regent World, vol. 27, no. 2, fall 2015, entitled "Did Pope Francis Study at Regent?"
Next articles
Creation care: Recommended resources
Where can you go to learn more about the relationship between Christians and God's creation? Here are some recommendations from CH editorial staff and this issue's authors
the editors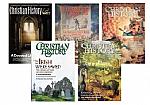 Show more
Subscribe to magazine
Subscription to Christian History magazine is on a donation basis
Subscribe
Support us
Christian History Institute (CHI) is a non-profit Pennsylvania corporation founded in 1982. Your donations support the continuation of this ministry
Donate