Plague advice from Martin Luther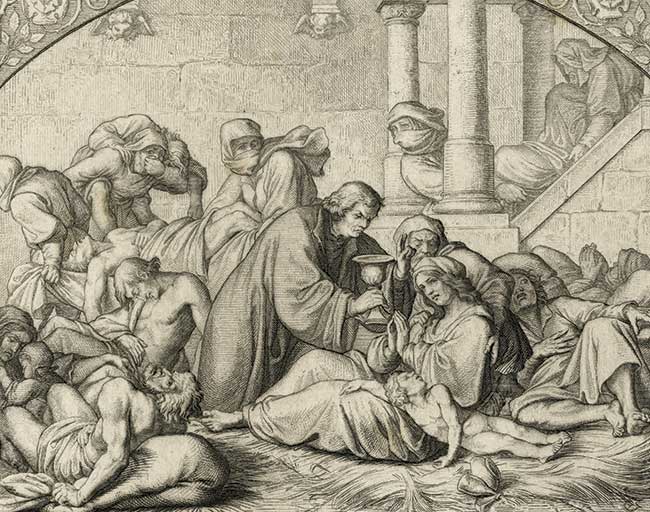 [Luther with pest sick persons in Wittenberg. Illustration from Dr. Martin Luther the German Reformer, illustrated by Gustav Koenig, published by Rudolf Besser, Gotha, 1850—United Archives/HistAuge / Bridgeman Images]
It would be well, where there is such an efficient government in cities and states, to maintain municipal homes and hospitals staffed with people to take care of the sick so that patients from private homes can be sent there. . . . That would indeed be a fine, commendable, and Christian arrangement to which everyone should offer generous help and contributions, particularly the government. Where there are no such institutions—and they exist in only a few places—we must give hospital care and be nurses for one another in any extremity or risk the loss of salvation and the grace of God. . . .
Now if a deadly epidemic strikes, we should stay where we are, make our preparations, and take courage in the fact that we are mutually bound together (as previously indicated) so that we cannot desert one another or flee from one another.
First, we can be sure that God's punishment has come upon us, not only to chastise us for our sins but also to test our faith and love—our faith in that we may see and experience how we should act toward God; our love in that we may recognize how we should act toward our neighbor. I am of the opinion that all the epidemics, like any plague, are spread among the people by evil spirits who poison the air or exhale a pestilential breath which puts a deadly poison into the flesh. . . .
"Use medicine, take potions"
Others sin on the right hand. They are much too rash and reckless, tempting God and disregarding everything which might counteract death and the plague. They disdain the use of medicines; they do not avoid places and persons infected by the plague, but lightheartedly make sport of it and wish to prove how independent they are. They say that it is God's punishment; if he wants to protect them he can do so without medicines or our carefulness. This is not trusting God but tempting him.
God has created medicines and provided us with intelligence to guard and take good care of the body so that we can live in good health. If one makes no use of intelligence or medicine when he could do so without detriment to his neighbor, such a person injures his body and must beware lest he become a suicide in God's eyes. . . .
Use medicine; take potions which can help you; fumigate house, yard, and street; shun persons and places wherever your neighbor does not need your presence or has recovered, and act like a man who wants to help put out the burning city. What else is the epidemic but a fire, which instead of consuming wood and straw devours life and body?
You ought to think this way: "Very well, by God's decree the enemy has sent us poison and deadly offal. Therefore I shall ask God mercifully to protect us. Then I shall fumigate, help purify the air, administer medicine, and take it. I shall avoid places and persons where my presence is not needed in order not to become contaminated and thus perchance infect and pollute others, and so cause their death as a result of my negligence. If God should wish to take me, he will surely find me and I have done what he has expected of me and so I am not responsible for either my own death or the death of others. If my neighbor needs me, however, I shall not avoid place or person but will go freely, as stated above."
By Martin Luther
[Christian History originally published this article in Christian History Issue #135 in 2020]
Martin Luther, Whether One May Flee From a Deadly Plague (1527). Translation from Luther's Works, Vol. 43, reprinted with the kind permission of 1517 Media.
Next articles
"Christ is the master"
Margaret Blaurer's life shows how reformers reluctantly made room for female celibate ministry.
Edwin Woodruff Tait
"Now, Christ, prevail"
When plague struck Zurich, Zwingli hurried home from vacation to tend the sick but soon contracted the disease himself.
Zwingli
Show more
Subscribe to magazine
Subscription to Christian History magazine is on a donation basis
Subscribe
Support us
Christian History Institute (CHI) is a non-profit Pennsylvania corporation founded in 1982. Your donations support the continuation of this ministry
Donate