Making drudgery divine?
The elixir
Teach me, my God and King, In all things thee to see,
And what I do in any thing, To do it as for thee:
Not rudely, as a beast,
To run into an action;
But still to make thee prepossessed [put first],
And give it his perfection.
A man that looks on glass,
On it may stay [keep] his eye; Or if he pleases, through it pass,
And then the heaven espy [see].
All may of thee partake:
Nothing can be so mean, Which with this tincture (for thy sake)[1]
Will not grow bright and clean.
A servant with this clause
Makes drudgery divine:
Who sweeps a room, as for thy laws,
Makes that and the action fine.
This is the famous stone
That turneth all to gold:
For that which God doth touch and own
Cannot for less be told.
The collar
I struck the board [table], and cried, "No more. I will abroad.
What? shall I ever sigh and pine?
My lines and life are free; free as the road,
Loose as the wind, as large as store. Shall I be still in suit?
Have I no harvest but a thorn
To let me blood, and not restore What I have lost with cordial fruit?
Sure there was wine Before my sighs did dry it: there was corn
Before my tears did drown it. Is the year only lost to me?
Have I no bays [gatherings of flowers] to crown it? No flowers, no garlands gay? all blasted?
All wasted? Not so, my heart: but there is fruit,
And thou hast hands. Recover all thy sigh-blown age
On double pleasures: leave thy cold dispute Of what is fit, and not. Forsake thy cage,
Thy rope of sands,
Which petty thoughts have made, and made to thee
Good cable [rope], to enforce and draw, And be thy law,
While thou didst wink and wouldst not see. Away; take heed:
I will abroad.
Call in thy death's head there: tie up thy fears.
He that forbears To suit and serve his need, Deserves his load."
But as I raved and grew more fierce and wild At every word,
Me thoughts I heard one calling, Child: And I replied, My Lord.
From The Temple (1633). Spelling and punctuation modernized.
[1 A "tincture" is a small amount that is added to affect the whole.]
By George Herbert
[Christian History originally published this article in Christian History Issue #110 in 2014]
Geroge Herbert was an Anglican priest and poet.
Next articles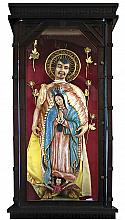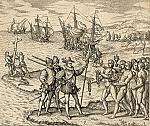 Show more
Subscribe to magazine
Subscription to Christian History magazine is on a donation basis
Subscribe
Support us
Christian History Institute (CHI) is a non-profit Pennsylvania corporation founded in 1982. Your donations support the continuation of this ministry
Donate