Letters to the editor
Christian History has meant a lot to me through the years. I am very grateful to God for keeping "the faith" alive to come down to our generation. Thank you for all the great magazines you have so faithfully written to help keep the faith alive and remind us of all that we have. —Goldie Homstad
In issue #115, the Gospel was so clearly and beautifully portrayed that I was brought to tears. —Mark Krauss
Order Christian History #118: The People's Reformation in print.
Subscribe now to get future print issues in your mailbox (donation requested but not required).
More books, please!
I liked very much your issue on "Seven Literary Sages" [#113]. One addition to your recommended resources, however. The most important book written about C. S. Lewis is missing from your list. It is, I believe, C. S. Lewis: The Shape of His Faith and Thought, by Paul L. Holmer. Nothing that I have seen comes close. —Mike Frank
You've hit on an important point, Mike! It's always hard to narrow down our list of Recom­mended Resources, but for the Seven Sages issue, it was especial­ly challenging. We definitely concur and commend the Holmer book to our readers.
And speaking of the Recommended Resources page, we had even more of a challenging task with issue 116 on the 25 most important Christian writings. Several readers wrote in with additional suggestions. Please check out George Thomas Kurian and James D. Smith III, The Encyclopedia of Christian Literature, as well as the Christian volumes in the Classics of Western Spirituality series published by Paulist Press.
The church is the people
Remember: When referring to the body of Christ, it is the Church. A church is a building for Christian worship. On pages 28 and 29 [of #115], Huldrych Zwingli is mentioned. I look forward to an issue about him and the Reformed Church. —P.W.M.
We follow the Chicago Manual of Style in our capitalization, which dictates a lower-case "church" except in denominational titles (United Methodist Church, Southern Baptist Church, Roman Catholic Church, etc.). Great thought about Zwingli! You will find a lot of him in this issue. Read on!
The latest Christian History magazine about the most important Christian books ever written was outstanding. I could not put it down. —Robert Durham
Correcting the correction
I enjoy the magazine! In response to your correction on page 2 of the magazine, issue 116: William Tyndale was executed neither in England nor in Antwerp, but at Vilvoorde Castle in Vilvoorde, Belgium, just outside of Brussels. He was arrested in Antwerp and lived in Antwerp, but he was taken to Vilvoorde and languished there in prison for months before his execution. The account is best consulted in Foxe's Acts and Monuments; I'm very pleased that the magazine mentions this Foxe edition in issue 116! I am a scholar of English Reformation literature and culture and teach English literature at James Madison University in Virginia. —Mark Rankin
We apologize that you had to correct our correction! The original error was carried over from issue 34's timeline, and unfortunately our correction came from a source that was itself wrong. We really do try to fact check every detail of every issue.
In the beginning was the Word (in Greek)
In issue 116 on page 45, beside the 15th-c. icon, it is stated: "The apostle John composes Revelation. . . ." But the scroll that John holds in his hands contains the first words in John's gospel.—Donald Clink
Good catch, Donald! Our image source provided this description with the image of John: "St. John the Theologian, Writing his Revelations on an Open Scroll." Obviously in this case, "his Revelations" is actually the Gospel of John, not Revelation.
This article is from Christian History magazine #118 The People's Reformation. Read it in context here!
Christian History's 2015–2017 four-part Reformation series is available as a four-pack. This set includes issue #115 Luther Leads the Way; issue #118 The People's Reformation; issue #120 Calvin, Councils, and Confessions; and issue#122 The Catholic Reformation. Get your set today. These also make good gifts.
By readers and the editors
[Christian History originally published this article in Christian History Issue #118 in 2016]
Next articles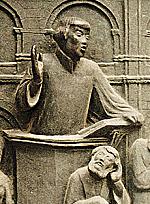 Allies or Enemies?
The Reformers soon divided over crucial issues; Luther himself was one reason why
Robert D. Linder
Show more
Subscribe to magazine
Subscription to Christian History magazine is on a donation basis
Subscribe
Support us
Christian History Institute (CHI) is a non-profit Pennsylvania corporation founded in 1982. Your donations support the continuation of this ministry
Donate