From mud huts to Yearly Meetings
IN 1902 North American Quaker missionaries Arthur Chilson, Edgar Hole, and Willis Hotchkiss first set foot on East African soil, settling on a cool, quiet, 1,010-acre piece of wooded land at a place known as Kaimosi. They were soon followed by Emory and Deborah Rees, who arrived by way of war-torn South Africa. Trained at Cleveland Bible Institute (now Malone University), the five were the first of many who came to Kenya from the Midwest over the next decade.
The Reeses set about transforming oral literature into written language, helping translate the Bible and English hymns into local languages and dialects. With a vision to educate and train as well as evangelize, in the next decades, Quaker missionaries founded girls' and boys' high schools, hospitals, a Bible institute, an agricultural school, a teacher training school, and a technological institute.
Order Christian History #117: The Surprising Quakers in print.
Subscribe now to get future print issues in your mailbox (donation requested but not required).
Within 20 years there were over a thousand Kenyan Quakers. Many women were drawn to the movement because it offered them greater freedom than their traditional African religions. Daudi Lung'aho, one of the first African converts, married fellow African Maria Maraga in the mission's first Christian wedding. Together they broke the long-standing taboo against women in Kenya eating eggs and chicken (reported to cause infertility). Eating eggs and chicken became one sign of conversion to Quakerism.
Soon the mission set up other missionary centers in Lirhanda, Malava, Vihiga, Lugari, and Lugulu, all offering education and medical care along with the Gospel. With a vision for developing indigenous leadership, Jefferson Ford from Indiana began the Friends Bible Institute at Lugulu in 1942 in mud-and-thatch huts. Moved to Kaimosi in 1950, it operated out of a mule shed until it got a more permanent home in 1954.
In the late 1940s and mid-1950s, mission centers expanded to Kenya's capital, Nairobi, to serve the less privileged families that lived in its suburbs, and to the northern part of Kenya. In the 1960s and 1970s, Quaker missions reached Uganda, Tanzania, Rwanda, and Burundi.
By the 2000s Friends United Meeting's Africa Ministries aimed to establish Quaker missionary centers in the deep southern, central, and northern regions of Africa. Evangelism and outreach is happening throughout Malawi, Mozambique, the Congo, and southern Sudan. Thanks to Ford's forward thinking, the Kenyan mission became independent and indigenously run in 1963.
Kenya today has the largest constituency of Quakers in the world—over 45 percent of the international membership of the movement. There are over 750,000 Kenyan Quakers in 18 Yearly Meetings with 2,000 congregations; over 1,500 Quaker primary and high schools and numerous colleges; two Friends hospitals; and hundreds of clinics and dispensaries. Friends participate actively in peacemaking activities in the region. While George Fox and Margaret Fell might be surprised at how far their movement has spread, they would not be surprised at the immensity of its witness.
This article is from Christian History magazine #117 The Surprising Quakers. Read it in context here!
By Robert J. Wafula
[Christian History originally published this article in Christian History Issue #117 in 2016]
Robert J. Wafula is principal of Friends Theological College in Kaimosi, Kenya
Next articles
A radical experiment
Quakers should lead the way to redemptive fellowship, says this famous Quaker theologian
D. Elton Trueblood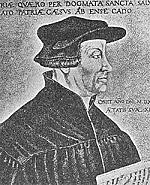 Show more
Subscribe to magazine
Subscription to Christian History magazine is on a donation basis
Subscribe
Support us
Christian History Institute (CHI) is a non-profit Pennsylvania corporation founded in 1982. Your donations support the continuation of this ministry
Donate