A city set with pearls
In "Pearl," an anonymous fourteenth-century poet describes a grieving narrator who has a vision of his young daughter, recently dead, as a beautiful young woman joyfully living in paradise. In this excerpt, she has just shown him the New Jerusalem.
As John the Apostle saw it with sight,
I saw that city of great renown,
The New Jerusalem, royally dressed
As it had alighted from heaven down.
Of bright burning gold was all that town,
Burnished bright like gleaming glass,
With noble gems offsetting each other,
With twelve great tiers of well-set stone,
On twelve foundations firmly placed;
Each tier was made of a single stone,
As the Apocalypse well describes
Written by the Apostle John.
As John describes I too saw there:
The twelve steps were broad and steep;
The city stood above full square,
Its length and breadth and height the same.
The streets of gold were clear as glass,
The jasper wall like egg-white gleamed.
The dwellings within were all adorned
With every kind of gems there are.
This great estate stretched on each side
Twelve furlongs before it came to an end,
Whether one traced height, length, or breadth,
As measured by the Apostle John.
. . . .
I saw yet more of what John wrote;
Each face of the city had three gates,
So twelve in all the walls I spied,
The portals adorned with rich plates,
And each gate made of a single pearl,
A perfect pearl that never fades.
On each of these was fixed a name
Of one of the sons of Israel,
In order as each one was born—
The oldest on the first was placed.
Such light there gleamed in all the streets
That they needed neither sun nor moon.
Of sun or moon they had no need,
For God's self was the lamplight there,
The Lamb their lantern, without fear;
Through Him the citadel shone so bright.
Through wall and dwelling pierced my sight,
For they were all so fine and clear.
Thus I could see the high throne
With all its rich array all round,
As John the Apostle set it down,
Which the high God's Self sat upon.
A river ran out from that throne
Brighter than both the sun and moon.
Sun or moon never shone so sweet
As the flood that flowed out from that floor.
Swiftly it swirled through every street
Free from filth and scum and slime.
There was no church in the city set,
No chapel or temple there at all.
The Almighty was the cathedral fair,
And the Lamb the life-giving sacrifice.
The gates of that place were never shut,
But at all hours were open to all.
For none with blemish beneath the moon
Could ever take refuge within that wall.
By Anonymous
[Christian History originally published this article in Christian History Issue #112 in 2014]
Translated from Middle English by Edwin Woodruff Tait
Next articles
New heaven, new earth
The tension between heaven above and new creation to come throughout church history
John Stackhouse
Another stop on the glory train?
Christians have wrestled for years—sometimes with each other—over whether there might be a "precursor" to heaven
Jerry L. Walls
Show more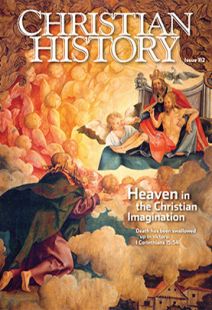 Christian History Magazine #112 - Heaven
Subscribe to magazine
Subscription to Christian History magazine is on a donation basis
Subscribe
Support us
Christian History Institute (CHI) is a non-profit Pennsylvania corporation founded in 1982. Your donations support the continuation of this ministry
Donate