Jan 18, 2019
A very brief life of Zwingli
Guest post by Dr. Jim West
Even though our four issues celebrating the 500th anniversary of the Reformation have passed, there are still many Reformation-related anniversaries to think about. It was January 1, 1519 when Zwingli began preaching through the Bible continuously in Zurich, an act which helped spark reform there. We are publishing this academic essay by Dr. West in three parts over the next few weeks to honor the 500thanniversary of that occasion.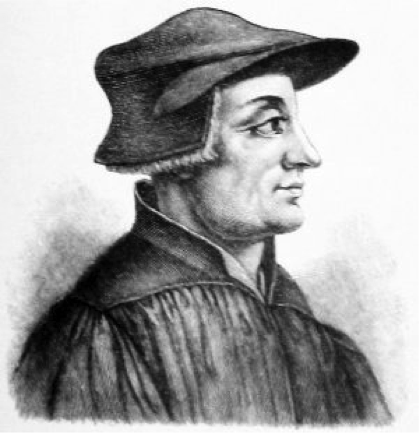 Huldrych Zwingli, born in Wildhaus on 1 January, 1484, is widely known as the "third Reformer" behind, usually, Luther and Calvin. His father was a local dignitary, something akin to a modern mayor, and his mother was very concerned that her several children grow up to be well rounded and devout. Accordingly, she insisted that all of her children read, and play musical instruments and attend Mass regularly. Huldrych did. Learning to play no fewer than 10 instruments, he possessed a lifelong love of music.
It was soon very apparent that the bright young fair skinned red headed boy was exceptionally bright and he was soon sent to study with a learned uncle, who oversaw his expanding humanist education. Attending the University of Vienna and the University of Basel, Zwingli earned both a Bachelor's degree and a Masters, and shortly afterwards assumed the pastorate of the Church in Glarus.
It was from Glarus, in 1515, that Zwingli accompanied Swiss troops to Italy where the Battle of Marignano was fought between Italian and French troops. Swiss forces had been hired by the Italians as mercenaries and they had need of their chaplain on the field of battle. The battle went quite badly for the Swiss and Italian forces, who lost miserably to the French and their superior firepower. Tens of thousands died, and many more thousands were wounded.
That battle changed Zwingli's life. He left it with a profound sense of horror at the practice of Swiss mercenary service, and when he returned to Glarus he preached against the practice, enraging thereby many of the wealthy townsmen who made a pretty pfennig from selling the services of the youth to the highest bidder for battle.
Though he loved the people of Glarus, Zwingli nonetheless was compelled by circumstances to leave. He departed and took up residence in Einsiedeln, a famous pilgrimage site, dedicated to the "Black Virgin" (so named because the soot of many devotional candles had turned the wooden statue black). It was there that Zwingli accelerated his views against mercenary service and began to think quite deeply about a Church which encouraged such service. At the end of 1518, while Zwingli was deeply immersed in study of the Greek New Testament, an invitation to be the lead pastor of the Great Minster in Zurich arrived. Though there were questions about Zwingli's personal life, the call was still extended and Zwingli took up residence at the end of December and began his ministry proper on his birthday, January 1, 1519.
Zwingli immediately reformed the service of worship by abandoning the lectionary and adopting a continuous exposition of the Biblical text in the sermon. He, eventually, reformed the Mass, replacing it with the Lord's Supper, and abandoned the many "papist" practices of the day. Churches were emptied of their images and worship music was done away with. Not because music was evil, but because music had come to be a means of self glorification rather than the glorification of God.
Zwingli preached brilliant sermons, established the Prophezei, a school for clerics and laypeople which met every week day except for market day, and wrote hundreds of letters, dozens of books and booklets, and influenced the practice of Christians throughout not only Switzerland but all of Western Europe.
Zwingli's life ended on 11 October, 1531 when, once again serving as chaplain to the troops, he was cut down by Catholic forces at the second Battle of Kappel-am-Albis. When his body was discovered the Catholic commander ordered his heart removed, his body quartered, and the whole burned--the usual treatment of heretics in those days.
Read more about Zwingli's life and the Reformation in Christian History #118: The People's Reformation.
Dr. Jim West (ThD) is lecturer in biblical studies and Reformation history at Ming Hua School of Theology and pastor of Petros Baptist Church in Petros, TN. He also blogs on Reformation history at http://zwingliusredivivus.wordpress.com.
Tags
Zwingli • Reformation • Reformer • bible study • Reformed • Zwingli • Reformer • bible study