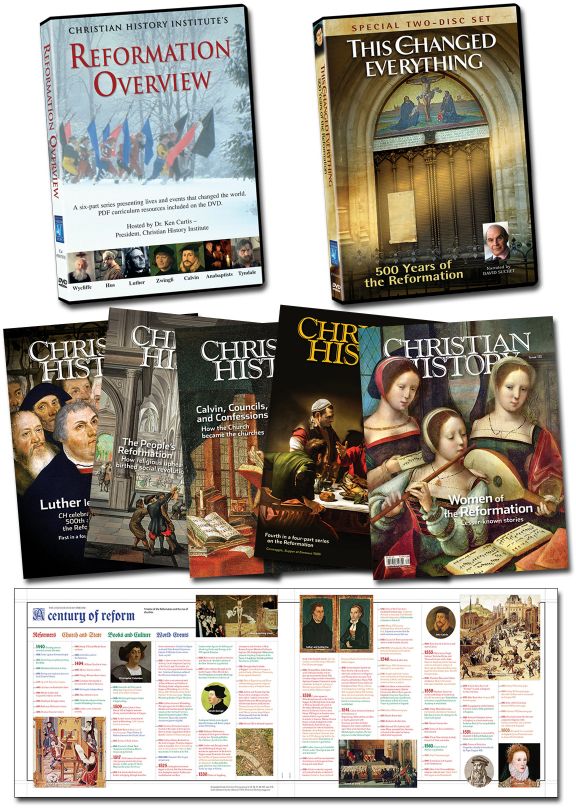 Christian History Magazine
Reformation Teaching Kit
Set includes the DVDs This Changed Everything and Reformation Overview, Christian History Magazine issues #115, #118, #120, #122, and #131, and the Reformation Fold-Out Timeline.
Item number: 97425D
Media type: DVD
Running Time: 300 min
Region: All
Production Year:
Producer:
Description
Reformation Overview — Based on the Gateway Films/Vision Video church history film series, these six half-hour programs vividly bring to life the Reformation, its colorful leaders, and history-shaping turning points. Fullscreen. 1. John Wycliffe - Called the "Morningstar," this courageous forerunner paved the way for momentous changes to come. His teachings challenged the authorities, but they exiled him, and his exile provided the opportunity for his monumental achievement that has benefitted us all -- the Bible in English. 2. John Hus - He carried forth Wycliffe's groundbreaking work. His passionate calls for reform brought him before the Council of Constance. There he was betrayed by false accusations. He refused to capitulate and was condemned to burn at the stake. He died singing. 3. Martin Luther - He wanted only the quiet solitude of the monastery. There this guilt-burdened monk discovered the freedom of the Gospel. He couldn't keep quiet about it, nor could he stop the relentless swirl of events that propelled him to a decisive role in the shaping of the modern world. 4. Ulrich Zwingli and John Calvin - They led the Reformation in Switzerland. Both capable scholars, they had to interpret the newly recovered dimensions of the Gospel in the midst of a hurricane of change, social chaos and fierce opposition. From Zurich and Geneva their writings and developments would permeate the church worldwide. 5. The Anabaptists - Called "the Radicals," they were opposed by just about everyone--Catholics, Protestants, and political leaders. Two of their earliest leaders, Michael and Margaretha Sattler, were executed for their beliefs while still young, but their legacy endures to this day. 6. God's Outlaw: William Tyndale - This humble, young scholar became one of the most hunted fugitives ever, pursued by King Henry VIII, Cardinal Wolsey, Sir Thomas More and others. His crime? Translating and circulating the Bible in English. He was caught and killed, but his unquenchable vision was marvelously fulfilled. PDFs included on the DVD: 48-page leader's guide with background information, discussion questions, and optional Bible study for each session, 24-page student workbook.

This Changed Everything — This Changed Everything: 500 Years of the Reformation celebrates the fruits of the Reformation while exploring difficult questions about the cost of division: Could schism have been avoided? Is there hope for reunification? What did Jesus really mean when He prayed for His followers to be "one"? In this visually rich, three-part documentary series hosted by actor David Suchet, leading church historians share fascinating insights and pose vital questions about unity, truth, and the future of the Christian church. Among the experts featured in this series are Dr. Frank James, Dr. John Armstrong, Dr. Michael Horton, Dr. Jacqueline Rose, Bishop Robert Barron, Mark Galli, Dr. Joel Harrington, Shane Claiborne, Dr. Karin Maag, Dr. Scott Kisker, and many others. Bonus material on Disc 2: Over five hours of interviews with experts, virtual tours of key Reformation sites, companion guide in PDF. An interactive guide is also available at www.ThisChangedEverything.com/companionguide. Also includes instructions to obtain a High Definition Digital Copy and the ability to stream forever on any internet connected device.

Christian History Magazine Reformation Bundle — #115: Martin Luther and the Reformation — The first issue of Christian History magazine's series of four on the Reformation explores the roots and fruits of reform. On a quiet October Wednesday in 1517, a young Augustinian monk and theology professor, with one nail to the Wittenberg Castle door, struck a death blow to medieval Catholicism. That's the story we think we know of Martin Luther, his 95 Theses, and the beginning of the Reformation. But is it the whole story? #118: The People's Reformation — It didn't take long for the ideas of Luther, Zwingli, and many others to ignite a sea change in society at large: peasants revolting, priests and nuns marrying, church art destroyed, heretics on both sides persecuted by church and state, and a philandering king whose search for a male heir would birth the Church of England. Read about one of the most turbulent eras of all of history in issue #118, The People's Reformation, the second in our Reformation series. #120: Calvin, Councils, and Confessions — As the reform movement spread and splintered across Europe in the mid-sixteenth century, each offshoot searched for and strengthened its identity through various confessions and creeds. On this scene stepped John Calvin, the hopeful priest turned reluctant lawyer who became one of the world's most influential reformers. Read his story along with the story of the divisions, martyrdoms, victories, and disappointments that marked the last half of the sixteenth century in this third Reformation issue of Christian History. #122: The Catholic Reformation — The Catholic Reformation is a story often overlooked by Protestants. In this issue of Christian History magazine, read how some Catholics embraced "evangelical" ideas and helped usher in a new era. From Ignatius of Loyola and the founding of the Jesuits to the Council of Trent's far-reaching decrees, the church returned to a focus on piety and prayer, often expressed through vibrant art. You'll find plenty of beautiful art in these pages, alongside the struggle to address abuses, the devastating Thirty Years' War, and Protestants dividing and immigrating. We conclude our four-part series of Reformation issues with a forum on ecumenical dialogue between Catholics and Protestants today. #131: Women of the Reformation - Discover the stories of lesser known women of the Reformation and how their desire to serve God changed Europe in this companion issue to our four-issue Reformation series.

Reformation Fold Out Timeline — The most important events from a century of reform. Unfolds to 31" x 11".