Letters to the editor
Our readers send good ideas
Have you ever considered an issue on groups who have observed the seventh-day Sabbath over the centuries? —John Lemley, Vancouver, WA
I would be interested in a magazine devoted to the Shroud of Turin and Sudarium of Oviedo.
—Brian Huffmann, Clayton, NC
We appreciate the ideas that are sent in and add many to our list of potential issues (which is quite long—we have ideas to keep us going for many years!).
And they also send us love
Dear CHI Team, please allow me to thank you for the tremendous job you are doing with the Christian History magazine. It is a huge joy every time I open the mail box and find a new issue. I admire the way you are always able to present a unique topic in an interesting, informing and relevant way. Thank you.
—Gernot Elsner, Karlsruhe, Germany
Thank you for issue 119, The Wonder of Creation. This was an issue and a topic not often lately mentioned in Christian circles. It was a great reminder for me of the Glory of God and His peace in nature as well as His power displayed. I enjoyed it immensely.
—Nancy Hennis, Jourdanton, TX
I've finished reading issue 119, and I appreciate it very much. The issue covers the topic with breadth and clarity. . . . Another book worth including in the Recommended Resources is Belden Lane's Ravished by Beauty (2011).—Doug Anderson, Orange City, IA
Order Christian History #122: The Catholic Reformation in print.
Subscribe now to get future print issues in your mailbox (donation requested but not required).
The good, the bad, and the ugly
I do enjoy the magazine and share it with others as well. The only thing I don't enjoy are the pictures from ages past of the horrible things people did to other people. . . . Knowing what those behind us had to endure because of their faith makes me appreciate the freedom we have in this country as a believer in Christ all the more. I especially loved the Creation issue—that was a work of art and so beautifully done. Thank you for this ministry to so many of us. I will try to send you a donation, as you truly deserve it for all the good work you do so faithfully.—Sheryl Carter, Sully, IA
It's often difficult for us too as we read about tragedies and injustices from the past. We are committed to telling the whole story, even when it is painful, because we hope it will help our readers see God's hand at work in the world. Thank you for your support!
Another anniversary
I just got the newest CH magazine, and I'm very disappointed. In this, the 500th anniversary of the Reformation there were many subjects, people, events you could have done, and you chose to do one on Faith in War.
—Elliott Pollasch, Cambria, WI
Yes, the 500th anniversary is a huge event, one that we are committed to covering well! You are holding the final issue in our four-part Reformation series, meaning the full set is now available for study. Also find our award-winning documentary, This Changed Everything, and many other Reformation resources in the center pull-out order form and on christianhistoryinstitute.org. Note that 2017 is also the 100th anniversary of the United States' entry into World War I, hence the world wars issue.
Asbury encourages a modern preacher
After reading your magazine on Francis Asbury (see CH #114), I ran across a church planter who was discouraged because he didn't speak well. I assured him with the story of Asbury's life: here was a man who was not particularly graceful in speech or profoundly intellectual in his teaching, but he loved people. And look at Asbury's fruit!—Zack Shaffer, Kennesaw, GA
The fix is in for issue 121
Although Woodrow Wilson's Democratic Party was indeed defeated by Warren G. Harding in 1920 and Harding's "return to normalcy" slogan focused the campaign on Wilson's record, the Democratic candidate was James Cox. We also misidentified the Nazi party's percentage of the vote in 1933 as a majority (it was a plurality, 44%). Finally, Mitsuo Fuchida died in 1976, not 1906. (He would have been a very accomplished four-year-old!)
Who keeps CH in print? You!
A caller recently asked, "Is there a foundation that underwrites Christian History?" This is a question we hear a lot, and it's no wonder since our donation-based system is so unusual! While we greatly appreciate organizations who've helped cosponsor some issues, we do not have a regular financial sponsor. Rather we treasure donations large and small from thousands of faithful readers.
Without your support, CH would not be in print today.
This article is from Christian History magazine #122 The Catholic Reformation. Read it in context here!
Christian History's 2015–2017 four-part Reformation series is available as a four-pack. This set includes issue #115 Luther Leads the Way; issue #118 The People's Reformation; issue #120 Calvin, Councils, and Confessions; and issue#122 The Catholic Reformation. Get your set today. These also make good gifts.
By readers and the editors
[Christian History originally published this article in Christian History Issue #122 in 2017]
Next articles
Helping souls
How religious orders of the sixteenth century pursued reform and holiness
Katie M. Benjamin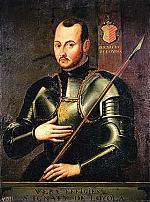 Show more
Subscribe to magazine
Subscription to Christian History magazine is on a donation basis
Subscribe
Support us
Christian History Institute (CHI) is a non-profit Pennsylvania corporation founded in 1982. Your donations support the continuation of this ministry
Donate