Letter from the editors
Welcome!
Christian History Institute, publisher of Christian History magazine, is pleased to provide this brief survey and resource guide on the history of Christian thought about hell. The doctrine of hell has sparked considerable debate, especially since the 19th century and most recently with Michigan pastor Rob Bell's book Love Wins. We hope you'll find that we've done our job as historians, so that this resource provides light in a debate where there's a lot of heat.
This guide is also our first answer to the many readers of the magazine who have told us you would like to see us do more in the history of theology. Please continue to let us know how we're doing—we exist to serve you. And if you find this publication helpful and would like to order multiple copies for church or classroom use, see the letter and order form bound into center of this booklet.
Many thanks to Jennifer Trafton, who served as project editor for this guide. We congratulate and rejoice with Jennifer on her forthcoming wedding this summer.
Meanwhile, our team is hard at work on issue #101 of Christian History, to be released this fall. The issue's theme is healthcare in the early and medieval church, and its top story is about how Christians pioneered an important social service institution: the hospital. Another topic we are strongly considering for an upcoming issue is the African Church Fathers (Tertullian, Cyprian, Athanasius, Origen, and others).
If you want to be sure to receive future CHI publications, you can check to see whether you have an account number on the back cover of this guide. If not, you can subscribe by logging on to www.christianhistorymagazine.org and clicking "subscribe" or by calling 1-800-468-0458.
Christian History is now a donation-based publication. You will not receive an invoice from us for your subscription. We only ask that you consider making an annual donation to help support this ministry. And tell your friends!
Yours in the renewing knowledge of our spiritual heritage, The team at Christian History
By The editors
[Christian History originally published this article in Christian History Issue #100+ in 2011]
Next articles
Early Christian Texts
What did the close successors of the apostles have to say on this theme?
Edwin Woodruff Tait
Show more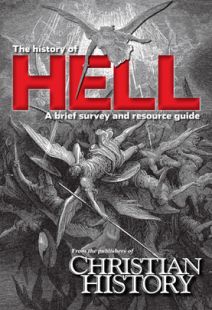 History of Hell Guide
Subscribe to magazine
Subscription to Christian History magazine is on a donation basis
Subscribe
Support us
Christian History Institute (CHI) is a non-profit Pennsylvania corporation founded in 1982. Your donations support the continuation of this ministry
Donate