Can heaven wait?
Our Town (1938): The end of this classic play takes place in a cemetery, and the recently deceased heroine requests (and receives) permission to return to earth for one day (despite the fact that the other dead urge her to move on).
Cabin in the Sky (1940): A man killed over gambling debts is brought back to life and given six months to prove himself worthy of going to heaven.
C. S. Lewis, The Great Divorce (1945) and The Last Battle (1966): A bus passenger in the former travels from a "grim city" to heaven; in the latter the "new heaven and new earth" of Lewis's fantasy world of Narnia begin. (See "Did you know?," inside front cover for more on Lewis and heaven.)
Led Zeppelin, "Stairway to Heaven" (1971): The band's most famous song not only has mysterious lyrics about a woman trying to buy her way into heaven, but for many years people claimed that messages from hell could be heard if you played the song backward. It was played at the close of nearly every homecoming and prom dance for decades.
Heaven Can Wait (1978): A football quarterback is killed in an accident, but because he was "taken" too early by an overambitious angel, he is sent back to earth in two different bodies. This film is a remake of the 1941 film Here Comes Mr. Jordan (where the hero is a boxer).
Highway to Heaven (1984–1989): An "angel on probation" is paired with a human partner and given assignments by "The Boss" (i.e., God) to help troubled people solve their problems.
Eric Clapton, "Tears in Heaven" (1991): This song on the death of the singer's young son includes the lyrics "Would you know my name if I saw you in heaven? / Will it be the same if I saw you in heaven? / I must be strong, and carry on / Cause I know I don't belong / Here in heaven."
Tim LaHaye and Jerry Jenkins, Left Behind (1995–2014): Glorious Appearing, the last of the series, portrays a vision of Christ's return to earth on the Mount of Olives, the judgment that follows, and the beginning of the millennial reign.
Field of Dreams (1989): An unsuccessful farmer builds a baseball diamond in a cornfield where deceased ballplayers appear and play ball, including the farmer's own father.
What Dreams May Come (1998): A dead physician meets his children in heaven, then goes to hell to rescue his wife, becoming the first resident of heaven ever to successfully rescue someone from hell.
Alice Sebold, The Lovely Bones (2002): A murdered teenage girl watches the unfolding events of her loved ones' lives from heaven. At one point she is granted a brief return to earth.
Mitch Albom, The Five People You Meet in Heaven (2003): A man who thinks he has lived a worthless life dies and meets five people who explain to him that his life really had purpose. Albom also wrote The First Phone Call from Heaven (2013), in which a small town starts getting phone calls from the afterlife.
Don Piper, 90 Minutes in Heaven (2004): A minister recounts experiences he had while legally dead for 90 minutes following a horrible car wreck: a vision of heaven's gates characterized by beauty, music, and encounters with dead loved ones.
William Young, The Shack (2010): A man whose daughter was murdered has visions of the Trinity as well as of his dead father in heaven.
Todd Burpo, Heaven Is for Real (2010): A minister writes of his four-year-old son's experience journeying to heaven and back during emergency surgery. As he recovered, Colton Burpo's memories of meeting Jesus and various dead family members emerged.
By The editors
[Christian History originally published this article in Christian History Issue #112 in 2014]
Next articles
Heaven: Recommended resources
Learn more about the long history of Christian reflection on heaven and put today's "heaven headlines" into context with resources recommended by CH editorial staff and this issue's contributors
The editors
The forgotten Inkling
Owen Barfield (1898-1997) insisted on the imagination as a road to truth. It profoundly changed his friends—and through them, us
Edwin Woodruff Tait
A Christian revolutionary?
Dorothy L. Sayers (1893-1957) proclaimed Christ as Lord over areas from theater to economics
Suzanne Bray
Show more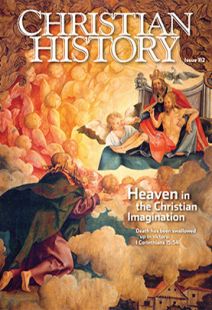 Christian History Magazine #112 - Heaven
Subscribe to magazine
Subscription to Christian History magazine is on a donation basis
Subscribe
Support us
Christian History Institute (CHI) is a non-profit Pennsylvania corporation founded in 1982. Your donations support the continuation of this ministry
Donate