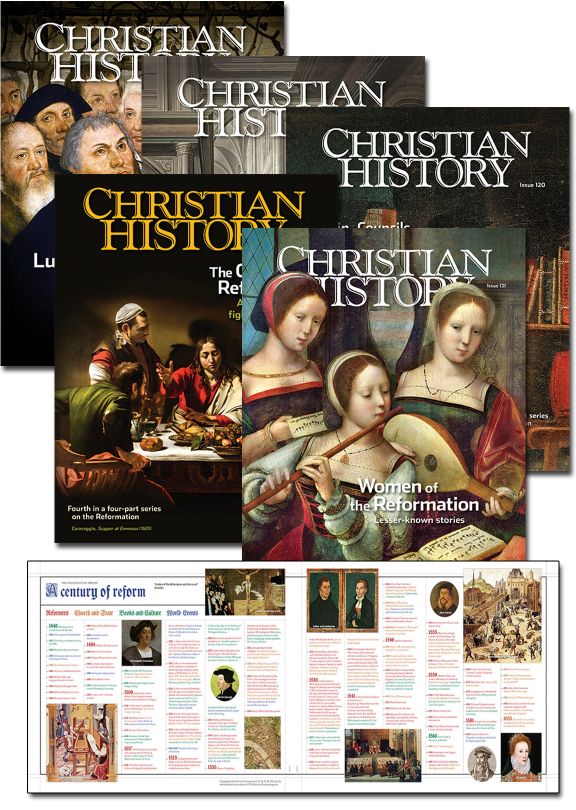 Timelines
Christian History Magazine Reformation Bundle - Set of 6
Includes five issues of Christian History magazine (#115 Martin Luther and the Reformation; #118 The People's Reformation; #120 Calvin, Councils, and Confessions; #122 The Catholic Reformation; and #131 Women of the Reformation) and a foldout timeline.
Item number: 97320
Media type: Magazine
Running Time:
Region: All
Production Year:
Producer:
Description
#115: Martin Luther and the Reformation — The first issue of Christian History magazine's series of four on the Reformation explores the roots and fruits of reform. On a quiet October Wednesday in 1517, a young Augustinian monk and theology professor, with one nail to the Wittenberg Castle door, struck a death blow to medieval Catholicism. That's the story we think we know of Martin Luther, his 95 Theses, and the beginning of the Reformation. But is it the whole story?

#118: The People's Reformation — It didn't take long for the ideas of Luther, Zwingli, and many others to ignite a sea change in society at large: peasants revolting, priests and nuns marrying, church art destroyed, heretics on both sides persecuted by church and state, and a philandering king whose search for a male heir would birth the Church of England. Read about one of the most turbulent eras of all of history in issue #118, The People's Reformation, the second in our Reformation series.

#120: Calvin, Councils, and Confessions — As the reform movement spread and splintered across Europe in the mid-sixteenth century, each offshoot searched for and strengthened its identity through various confessions and creeds. On this scene stepped John Calvin, the hopeful priest turned reluctant lawyer who became one of the world's most influential reformers. Read his story along with the story of the divisions, martyrdoms, victories, and disappointments that marked the last half of the sixteenth century in this third Reformation issue of Christian History.

#122: The Catholic Reformation — The Catholic Reformation is a story often overlooked by Protestants. In this issue of Christian History magazine, read how some Catholics embraced "evangelical" ideas and helped usher in a new era. From Ignatius of Loyola and the founding of the Jesuits to the Council of Trent's far-reaching decrees, the church returned to a focus on piety and prayer, often expressed through vibrant art. You'll find plenty of beautiful art in these pages, alongside the struggle to address abuses, the devastating Thirty Years' War, and Protestants dividing and immigrating. We conclude our four-part series of Reformation issues with a forum on ecumenical dialogue between Catholics and Protestants today.

#131: Women of the Reformation — They were printers, preachers, pamphlet writers, and pastors' wives; mystics, queens, and consecrated virgins. You might not know all the women of the Reformation, but their words and deeds fanned the flames of change all across Europe. Inspiring, complex, and brave, these women sought to live faithfully as they spoke out, served, and worked for reform.

Reformation Timeline — The most important events from a century of reform. Unfolds to 11" x 31".