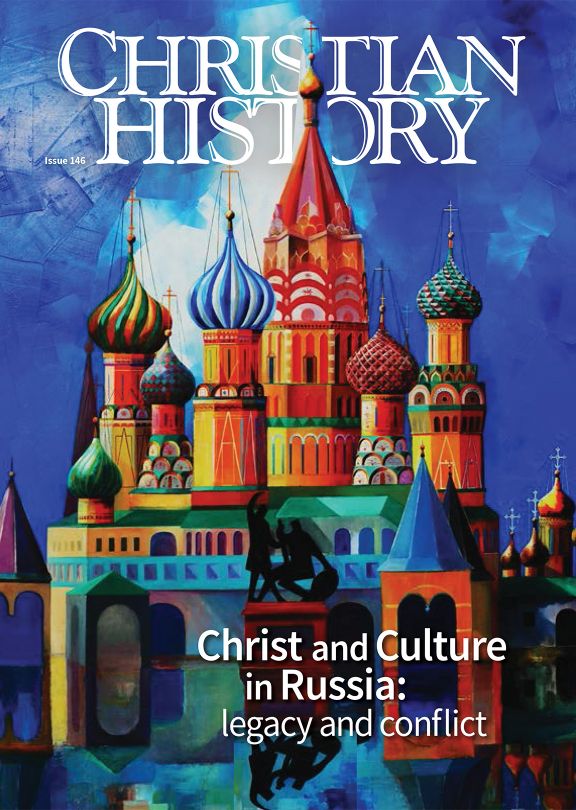 Christian History Magazine
Christian History Magazine #146 - Christ and Culture in Russia
Join CH as we tackle the history of Orthodoxy in Russia and look at the deep and complex context of the ongoing Russian invasion of Ukraine. Discover the last few centuries of Orthodoxy in Russia with this crucial follow-up to our 1988 issue #18, The Millennium of "Russian" Christianity.
Item number: 4919
Media type: Magazine
Running Time: 56 pgs
Region: All
Production Year:
Producer:
Description
n this latest issue, CH tackles the history of Orthodoxy in Russia over the last few centuries. Inspired by today's troubling headlines and desiring to give readers a context for the ongoing conflict, we tread the deep and complex waters of the events leading up to the Russian invasion of Ukraine. It's a contentious story that's difficult to tell. So why is CH publishing this issue now?

One reason is to talk about Orthodoxy in Russia in a broader sense– its roots and origins, what its worship looks like, some of its famous theologians and leaders, and the influence of the church on popular culture. It is a long overdue follow-up to our issue #18 from 1988, The Millennium of "Russian" Christianity.

The issue also, and crucially, outlines the Soviet era's religious and cultural trauma, from the revolution in 1917 to the USSR's dissolution in 1991. How does a people piece back together the culture that once existed in the face of years of devastation? How do they practice faith after decades of official atheism? The answers to those questions directly relate not only to the history of the Christian faith, but also to today's news.

Join CH as we uncover Christ and culture in Russia.