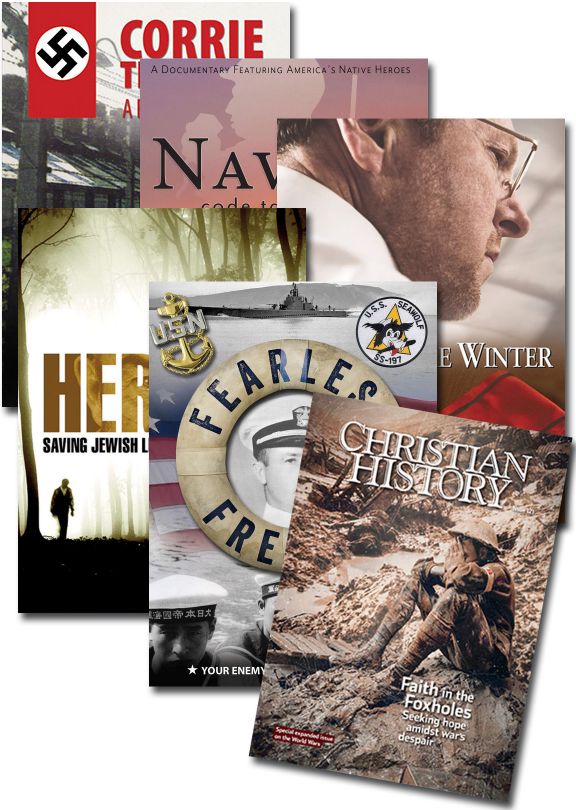 Modern Era
WW II 75th Anniversary - Set of 6
This set of six includes Corrie Ten Boom: A Faith Undefeated, Navajo Code Talkers of WWII, Come Before Winter, Heroes: Saving Jewish Lives, Fearless Freddie, and issue #121 of Christian History magazine on "Faith in the Foxholes."
Item number: 97278D
Media type: DVD
Running Time: 326 min.
Region: All
Production Year:
Producer:
Description
Corrie Ten Boom: A Faith Undefeated — When Nazi forces invaded Holland in 1940 and began rounding up Jews, Corrie ten Boom, her sister Betsie, and their elderly father risked their lives to save as many as possible. A hidden room was secretly built in their home where the oppressed Jews took refuge until a Gestapo raid put an end to their operation. For their "crimes," Corrie and Betsie were sent to the notorious concentration camp at Ravensbruck, where they suffered relentless cruelty. Struggling to reconcile God's goodness with the terrible realities of the camp, the sisters clung desperately to their Christian faith. Betsie died in the camp, but Corrie was miraculously released due to a clerical error. She spent the rest of her days caring for other death camp survivors and sharing her story with the world. Corrie's 1971 best-selling book, The Hiding Place, provides her account of persevering faith and forgiveness in the face of terrible evil. Featuring an interview with Pam Rosewell Moore, Corrie's longtime assistant, and scenes filmed in the ten Boom house in Holland where the actual events took place, Corrie ten Boom: A Faith Undefeated recounts this unforgettable story for a new generation.

Navajo Code Talkers of WWII — Navajo Code Talkers of WWII provides viewers with highly personal insights from a group of Native American war heroes regarding their service on behalf of the United States and the Navajo Nation. The secret code these marines developed based on the unwritten Navajo language was never broken, giving American troops an upper hand in many battles that ultimately led to Japan's surrender in 1945. Filmed on locations in Iwo Jima, Okinawa, Saipan, Guam, and Tinian during two trips with six USMC World War II veterans and their family members, the documentary reveals the wartime stories of these heroes as they travel on their journey of remembrance.

Come Before Winter — Come Before Winter tells the true story of two longtime foes of Adolf Hitler: propagandist Sefton Delmer and Pastor Dietrich Bonhoeffer. During the dying days of the Third Reich these two men, in very different ways helped bring about the fall of Hitler's regime. In Germany, Bonhoeffer spoke boldly against the evil of Nazism and called the church to turn away from its complacency. In England, Delmer, ran a secret operation, transmitting "black propaganda" into Germany in order to demoralize the Nazis. The stories of these heroic men and their companions intertwine as they work to end the war. Filmed in Berlin, Buchenwald, Flossenburg and various locations in England and the United States.

Heroes: Saving Jewish Lives — The residents of the Plateau du Vivarais, a remote region in the French countryside, stood up against the occupying Nazis and their French collaborators by giving sanctuary to those fleeing persecution during World War II. These French citizens refused to see oppressed individuals as anything other than human beings. Through their efforts over 3000 Jews and other persecuted people were spared. Experience the stories of this dark yet triumphant time as told by those who were there. And learn what made the residents of this region so willing to risk their lives to stand against the status quo.

Fearless Freddie — Rear Admiral Frederick Burdett Warder was known for both his bravery and his humility. Warder was Skipper of the USS Seawolf submarine during WWII. Then a Lieutenant Commander, Warder became known for his exploits during the battle of Corregidor in the Philippines in which the Seawolf sank several Japanese vessels and survived intense depth-charge attacks. For his efforts, the Commander was awarded the Navy Cross and ever after was known as "Fearless Freddie" (a nickname he disliked). A man who believed his enemy was also his brother, Warder ordered his crew to rescue enemy battle survivors from the sea even if they refused to come aboard. This documentary tells the story of Warder's remarkable life.

Christian History magazine #121: Faith in the Foxholes — They were the wars of our grandparents and great-grandparents. Bloody, nightmarish wars that transformed the face of the globe, claimed entire families, and ushered in the nuclear age. Neither did the Christian church escape unscathed. As the world fought to save Western civilization, Christians fought too, in battles both physical and spiritual. Their stories are heart-wrenching, challenging, and touching, and there are some stories we'd rather forget. Read them all in this expanded issue of Christian History on World Wars I and II, dedicated to those who gave all they had to ensure there would be a better tomorrow. 62 pages.