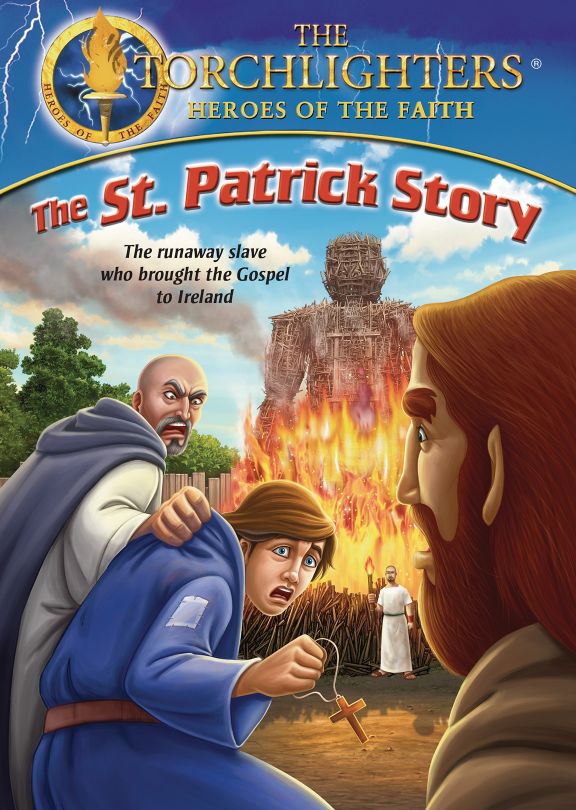 Torchlighters: The Saint Patrick Story
An animated story for children ages 8-12 on the runaway slave who brought the Gospel to Ireland.
Item number: 501869D
Media type: DVD
Running Time: 30 min
Region: All
Production Year: 2020
Producer: Christian History Institute
Description
Far from home and at the mercy of the Irish pirates who kidnapped him, young Patrick is forced to spend his days tending sheep and surviving wild animal attacks. That is, until he calls out to the God of his youth. Long days spent aching for home become long days praying. After six years as a slave, Patrick hears a Voice urging him to make a daring escape. Once back home, Patrick feels called to become a priest and is eventually appointed bishop, but all this pales when he receives yet another calling of God—to take the Gospel to his former kidnappers. Find out why the man known as St. Patrick is credited with introducing Ireland to Christ in this episode of The Torchlighters.

The Torchlighters is an ongoing series of animated programs with strong values and educational content for youth ages 8-12. Each Torchlighters episode presents the story of a true-life hero from Christian history. Kids will see what God can do through a "Torchlighter" and will be challenged to carry their own torch while learning about the history of our faith.

Special DVD Features:
- English and Spanish languages with optional English & Spanish subtitles
- 63 minute documentary on St. Patrick
- Comprehensive Leader's Guide with four lesson plans, background information, and more (also available at www.torchlighters.org)
- Reproducible Student Handouts, including comprehension and discussion questions, puzzles, activities, coloring, and more (also available at www.torchlighters.org) in PDF
- Interactive children's quizzes online at www.torchlighters.org

Customers in Australia or New Zealand, please visit www.christianmultimedia.org.au.