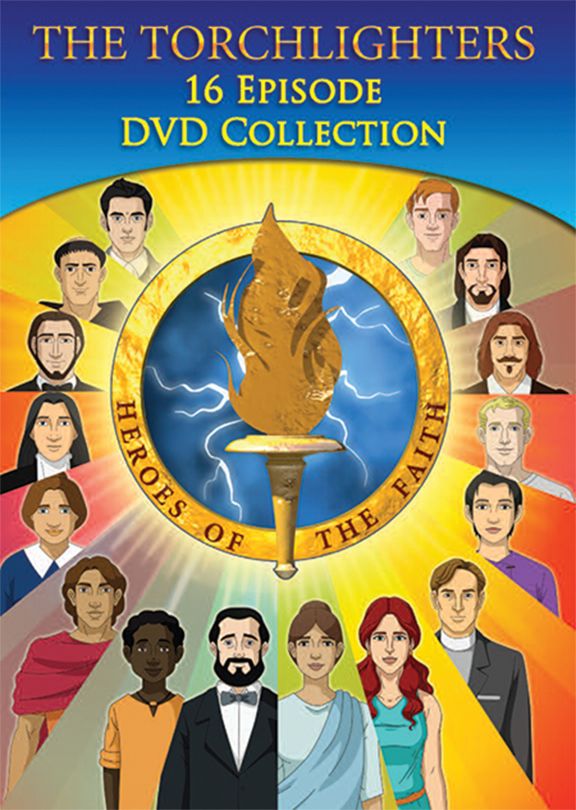 Torchlighters 4 Pk 16 Episode DVD Collection
Inspire today's youth with these true-life heroes of the faith!
Item number: 28931D
Media type: DVD
Running Time: approx 8 hrs
Region: All
Production Year: 2017
Producer: Christian History Institute
Description
This 4 DVD collection includes all 16 episodes of the award-winning Torchlighters series. Each action-packed episode highlights a true story from Christian history, exemplifying courage and a life dedicated to Christ.

Disc 1 - includes The Jim Elliot Story, The William Tyndale Story, THe John Bunyan Story and The Eric Liddell Story.

Disc 2 - includes The Gladys Aylward Story, The Richard Wurmbrand Story, The Perpetua Story and The Amy Carmichael Story

Disc 3 - includes The William Booth Story, The Samuel Morris Story, The Augustine Story and The Corrie ten Boom Story

Disc 4 - Includes The John Wesley Story, The Robert Jermain Thomas Story, The Martin Luther Story and the Adoniram and Ann Judson Story

NOTE: These discs only contain the animated movies. The do not include the documentaries.