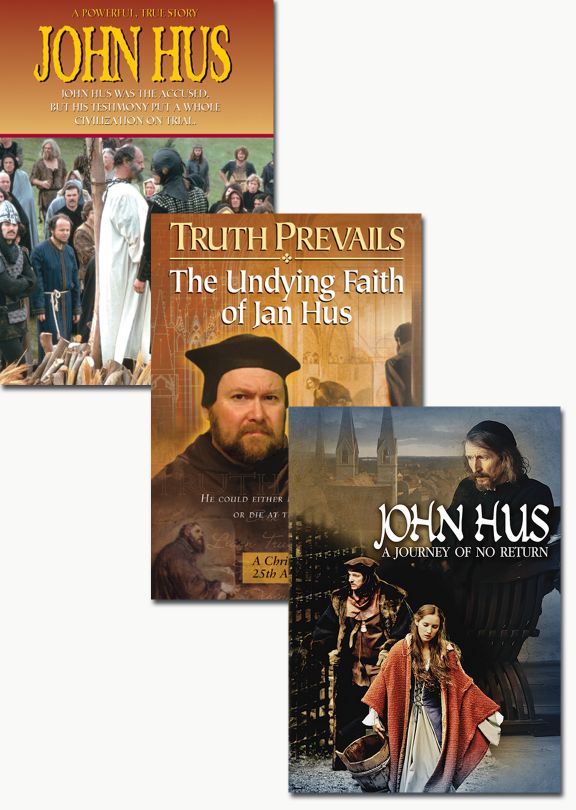 Reformation
John Hus - Set of Three
Includes John Hus: Journey of No Return, Truth Prevails: The Undying Faith of Jan Hus, and John Hus.
Item number: 97427D
Media type: DVD
Running Time: 166
Region: All
Production Year:
Producer:
Description
John Hus — Here is an important chapter in the steps leading up to the Reformation. The history books make little mention of this Bohemian priest and scholar who lived 100 years before Martin Luther and the Protestant Reformation. Yet, John Hus was convinced and taught openly that the Bible should be presented in the language of the people, that salvation comes by faith in Jesus Christ, and the Word of God is the final authority. He taught in the University of Prague and as a pastor, challenged the abuses of medieval Christendom. Intrigue and false promises weave a powerful story of one man's commitment to faith in Jesus Christ. He was summoned to the Council of Constance and promised safety, but he was betrayed. In the end, Hus was accused, imprisoned, and charged with heresy. Ultimately, he was condemned and burned at the stake as a heretic. Fullscreen. DVD Features: 55-minute version in English, Spanish, Portuguese, and French, with or without English subtitles; 30-minute abridged version in English; Study materials in PDF format -- Christian History magazine article on Hus, study guide pages from Reformation Overview.

Truth Prevails: The Undying Faith of Jan Hus — Over 600 years ago, a humble peasant stood alone against pope, emperor and king. He could either deny the truth he believed with all his heart, or he could die at the stake. Today Jan Hus is little known outside of his native Czech Republic, but in his day he challenged corrupt church officials and inspired thousands to live for truth. In an age when Europe was divided between three popes, when pestilence claimed one in three lives and church offices were available to the highest bidder, Hus defied the earthly authorities to seek truth directly from the Word of God. Truth Prevails, a quote from Hus himself, is an hour-long documentary from The Christian History Institute and award-winning filmmakers Jerry and Misha Griffith. Using location footage, interviews with prominent historians and period artwork, this film follow the struggles of Jan Hus and the efforts of modern scholars which ultimately led Pope John Paul II to apologize for the Church's actions.

John Hus: Journey of No Return — 14th century Czech priest and scholar John Hus is considered one of the first Protestant reformers. His interpretation of scripture and his bold stand against church corruption would strongly influence Martin Luther a century later. Hus spent his last days as a prisoner in Constance on charges of heresy. During his imprisonment Hus formed an unusual friendship with one of his jailers, Robert Talio. Hus's demonstration of faith in the face of death won Talio over to his cause. This historically based documentary produced for Czech television features outstanding dramatized scenes that reveal Hus's humanity and depict his unwavering commitment to God's mercy and justice.