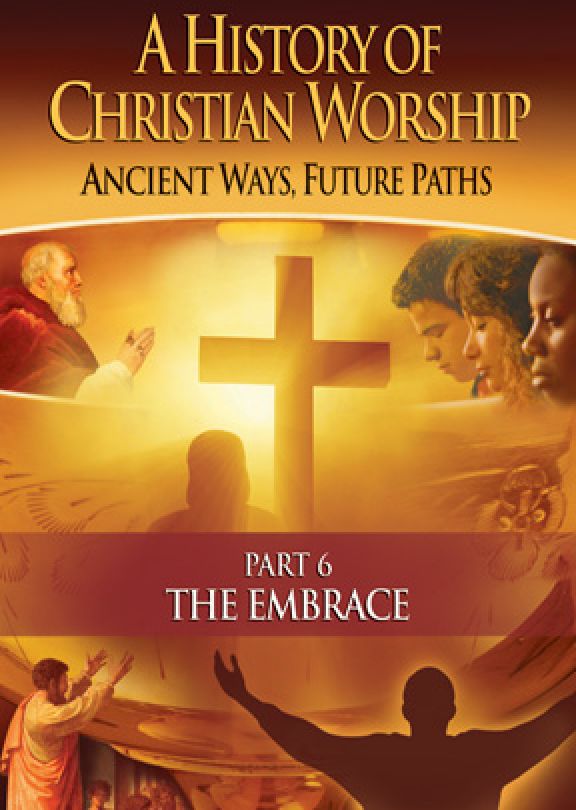 Music and Worship
History of Christian Worship: Part 6, The Embrace
A History of Christian Worship: Ancient Ways, Future Paths is a six-part series that explores centuries of worship practices, as seen through the eyes of Protestant, Catholic and Orthodox churches. From scripture, sermons and creeds to baptism and the Eucharist, from art and music to drama and media, from prayer and contemplation to service and ministry, viewers will discover the significant people and events that have shaped history and learn how modern worship practices are rooted in the earliest foundations of the Christian faith.
Item number: 501451D
Media type: DVD
Running Time: 56 Mins.
Region: All
Production Year: 2012
Producer: Ensign Media
Description
Part 6: The Embrace explores the inward worship practices of prayer and contemplation and the outward acts of worship found in service and ministry, including:
• How beloved prayers such as the Lord's Prayer have become an essential part of our ongoing dialogue with God.
• Why public and private prayer is essential to Christian worship.
• How the Church throughout the centuries has carried its message to the world through missions and caring for the poor, imprisoned, sick, and dying.
• How a ministry called Broken Chains reaches out to the biker subculture with the Gospel message.

Includes optional English subtitles and film trailers. Widescreen.

For these topics and more, join us on a journey from ancient ways to future paths as we discover a history of Christian worship.