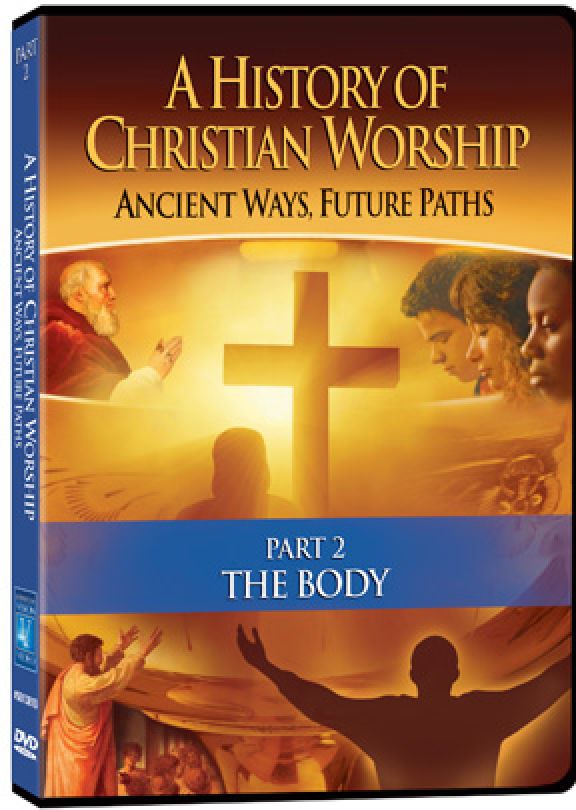 Music and Worship
History of Christian Worship: Part 2, The Body
This episode explores baptism and explains the history behind the various methods and traditions associated with the practice in Protestant, Catholic, and Orthodox churches.
Item number: 501381D
Media type: DVD
Running Time: 56 min
Region: All
Production Year: 2010
Producer: Ensign Media
Description
For followers of Jesus Christ, worship has spanned over two thousand years to include a long and diverse history of sacred practices. The many ways in which the faithful have preserved and celebrated God's story is limited only by the human imagination.

A History of Christian Worship: Ancient Ways, Future Paths is a six-part series that explores centuries of worship practices, as seen through the eyes of Protestant, Catholic and Orthodox churches and discussed by leading voices from a cross-section of the Christian community. From scripture, sermons and creeds to baptism and the Eucharist, from art and music to drama and media, from prayer and contemplation to service and ministry, viewers will discover the significant people and events that have shaped history and learn how modern worship practices are rooted in the earliest foundations of the Christian faith. Widescreen.

Part 2: The Body explores how individuals are joined with the body of Christ through baptism and how the idea of community is essential to the worship experience, including:
• What early church documents and practices teach us about how baptism is celebrated today.
• What symbols are common to all Christians in the celebration of baptism.
• Why there are different forms of baptism among various Christian traditions.
• How the Scriptures and church history support the community of believers as an important part of worship.
• How one unique community of believers celebrates worship through its western-themed cowboy church.

Includes optional English subtitles and film trailers.

For these topics and more, join us on a journey from ancient ways to future paths as we discover a history of Christian worship.