Years of William Carey's Work Went up in Flames
AT ABOUT SIX in the evening on this day, 11 March 1812, fire broke out in a print shop at Serampore, India. The mission staff there were able to rescue a few deeds and financial records, but could salvage little more. Around midnight, the roof caved in, sending a pillar of fire high into the sky.
Twelve years of missionary toil went up with those flames. William Carey, pioneer Baptist missionary to India, had produced a polyglot dictionary of several Indian languages. It burned. The conflagration also consumed Scriptures already printed in Indian tongues, Bengali and Sanskrit grammars, and twelve thousand reams of paper. Melted by the fire were fourteen special fonts of Asian typefaces.
Carey was in Calcutta when the disaster struck. When fellow-missionary Joshua Marshman took him the news in the morning, he was so stunned he could not say a word for a several moments. The pair spent the day looking for replacement typefaces, but had to return to Serampore empty-handed.
However, they received good news when they got there. Printer William Ward had found many of the punches and molds for typecasting unharmed in the ruins. With these in hand, they could have the presses running again in a month. The presses themselves were unaffected in an adjacent building, and six weeks later were turning out copies of the Scriptures in two languages.
Carey estimated it would take him twelve months to reconstruct his own work. Although downcast, he wrote, "The loss is heavy, but as traveling a road the second time is usually done with greater ease and certainty than the first time, I trust the work will lose nothing of real value."
In fact, the catastrophe proved something of a blessing. As the news spread, contributions poured in. Helpers rallied to Carey's side, restoring what was lost and much more. Before Carey's death in 1834, the mission had printed and distributed all or part of the Bible in forty-four languages and dialects.
While Carey lay dying, he lamented how unprofitable he had been. A visiting minister asked him about his hope of a future world. "I cannot say I have any very rapturous feelings; but I am confident in the promises of the Lord and wish to leave my eternal interests in his hands," he replied. He had told his friends earlier, "I am sure that Christ will save all that come unto him; and if I know anything of myself, I think I know that I have come to him."
—Dan Graves
-----------
For more on William Carey watch Candle in the Dark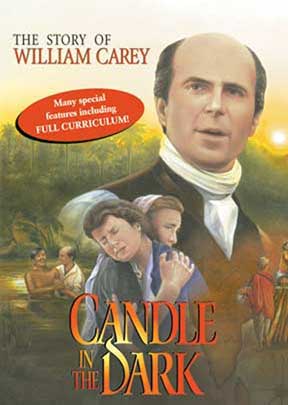 Candle in the Dark: The Story of William Carey can also be streamed at RedeemTV