REFUGEE ANNA SCHINDLER BECAME A FAITH LEADER AND HYMNWRITER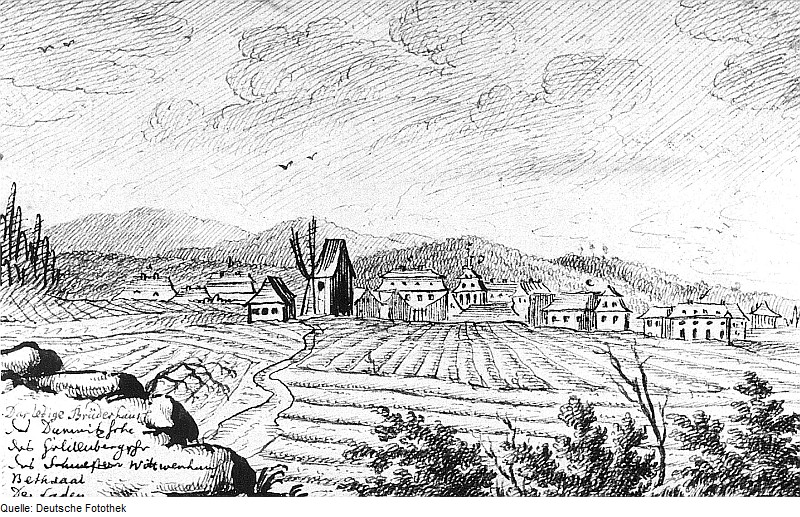 [Herrnhut, 1765. Deutsche Fotothek / [public domain] Wikimedia]
Anna Schindler Dober is remembered as a hymnwriter. She was a child of persecution.
Catholics in Moravia (a region of today's Czech Republic) drove out Waldensians and Hussites, reform groups with roots that went back before the Reformation. In 1722, desperate to find somewhere they could settle, David Christian approached Count von Zinzendorf, who had a reputation for godliness and owned estates in Saxony near Moravia. Zinzendorf agreed to let Moravians settle temporarily on his lands.
Within weeks, Moravian refugees planted the town of Herrnhut, "God's Watch." David Christian made several trips back to Moravia to lead other exiles to Herrnhut. In 1725, twelve-year-old Anna Schindler reached the thriving community. That same year, Anna Nitschmann also arrived. The lives of the two young women would intertwine.
Born at Kunewald, near Fulnek, Moravia, on 9 April 1713, Schindler's life mirrored that of the community. Like others, she lived in exile from her homeland because of persecution. When revival swept the community in 1727, she developed a deep longing for Christ. As with several other Moravian women, her longing found expression in verses.
Also moved by the revival, twelve-year-old Nitschmann inspired the other young, single women to club together for worship and ministry. Fourteen-year-old Schindler was in total agreement. Three years later the two founded a "single sister" choir. Both joined in prayer, singing, and training younger children. Nitschmann became a chief female elder at just fourteen years of age and eventually, although a peasant, became Count von Zinzendorf's second wife, following the death of his first.
Schindler also married up. In 1737, she became the wife of Elder John Leonard Dober, who had been a missionary to slaves in the West Indies before his promotion to head of the Moravians' entire European ministry. Anna accompanied him to Amsterdam to work among Jews in 1737, the year of their marriage. However, their partnership was short-lived. On this day, 12 December 1739, Anna Schindler Dober died at Marienborn, Germany, just twenty-six years old.
A few years earlier, she had written a hymn for a Sunday school feast. This was printed in 1735. John Wesley translated it into English while voyaging across the Atlantic on his way back to England from the American colony of Georgia and he published it in 1740. It begins by telling the "Holy Lamb," Jesus, that all who receive him long to be like him. Other stanzas continue,
Jesus, see my panting breast!
See I pant in thee to rest!
Gladly would I now be clean;
Cleanse me now from every sin.
Fix, O fix my wavering mind!
To thy cross my spirit bind:
Earthly passions far remove;
Swallow up my soul in love.
Others also translated the hymn into English, and versions appeared in Methodist and Congregational hymnals. Moravians included eighteen of Anna Schindler Dober's poems in their hymnbook a few years after her death.
—Dan Graves